One month has passed since the devastating terror attacks that struck Sri Lanka. Our condolences go out to everyone affected and those who lost a loved one. No words can make up for this unjust act. With this blog post, we hope to explain the situation in Sri Lanka as it is right now from being on the ground and help you to take your decision whether if it's safe and if it's a good time to visit now or not. Our answer is, YES, for many reasons now might be the best time to visit.
Update on June 6th 2019. – Several countries including UK, Sweden, Netherlands, Switzerland, Germany, China and India have lifted their travel warnings. This means they consider the threat is not high and hence making insurance policies valid. We believe most countries will follow this lead shortly.
What has happened?
On the 21st of April, Sri Lanka was struck by terrible terrorist attack killing more than 250 people and injuring more than 500 in a series of suicide explosions carried out by ISIS. This has made several countries issue severe travel advisories warning against traveling to the country, hence affecting the tourism industry very negatively with thousands losing their jobs.
Is your area affected?
No, not directly. We are located in Ahangama, which is in the south of Sri Lanka far from the affected areas of Colombo and Batticaloa. In Ahangama life is continuing as normal, however, the people are grieving over the lost lives and the loss of tourism arrivals which is the livelihood of most people here.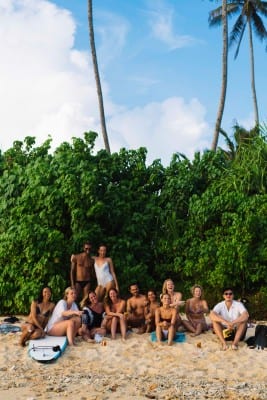 Our area is affected by a sudden loss of tourist arrivals which is very sad, but we are fully open and our operations are continuing as normal. All our local and foreign staff members are still here and ready to give you the best possible experience.
Is Sri Lanka safe now?
Yes, we feel very safe. We have had tourists arrive every week since the attacks and they've all said the feel very safe and happy that they came anyway. But to be honest, no one can say that it's 100% safe here or quite frankly anywhere in the world. The attacks are part of a new wave of terrorism 3.0. They were carried out by ISIS who are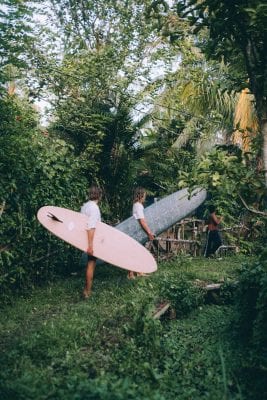 a global organization attacking targets worldwide, sadly no country can't protect themselves entirely against this kind of terrorism. That said, we feel safer than ever in Sri Lanka since the military is on high alert, the airport has stepped up their security massively, the police, the intelligence forces, and even FBI, MI6 and other foreign intelligence agencies are assisting in the investigations and helping to keep Sri Lanka safe. The president of Sri Lanka as announced that the terrorists are either arrested or killed. "The country is in a safe position right now," – President Maithripala Sirisena said in an interview with The Associated Press on Tuesday.
Max argues in Wavelength Magazine that an elephant is more likely to kill you than a terrorist.
"So would I travel to Sri Lanka this year? Yes of course. I'm actually cruising around the island in my tuk-tuk right now, scoring empty waves. And yesterday I got chased by an elephant, which is also on the long list of things more likely to kill you than a terrorist attack."
The full article is well worth a read and can be found here.
What about travel advisories?
Several countries including UK, Sweden, Australia and USA advise against all but essential travel to Sri Lanka since the attack.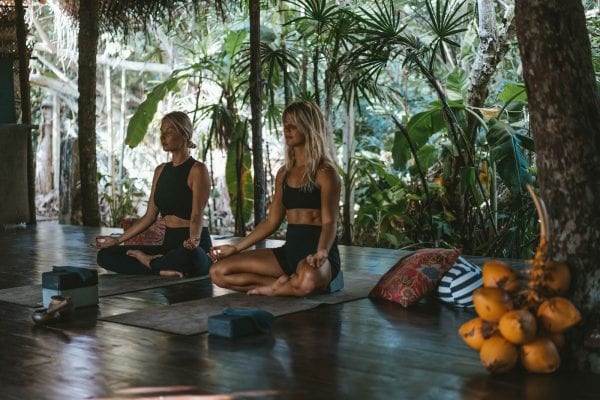 You should check what the foreign ministry in your country is recommending. When reading the advisories, please take in consideration that they are written by a country and they need to take a huge responsibility for their citizens, hence advising against traveling if they see even a slight threat.
Are the travel advisories exaggerated?
Some argue that the travel advisories are exaggerated and unjust. For example, when UK was struck by three terror attacks in three months, one day after the London Bridge attack, the UK Prime Minister told everyone "everyone needs to go about their lives as they normally would".. Four weeks after the one terror attack in Sri Lanka, UK is still warning for travel to the country. It is kind of contradictory says Jack who's been living here for the last 20 years.
"We have lived in this magical island for over 20 years and during this period have witnessed an appallingly violent civil war and a devastating natural disaster. But I have to say nothing compares to the damage being brought on these gentle innocent people as a result of the UK, and other Governments, travel advisories recommending everyone to stay away. The mass exodus of tourists has had a massive impact on the 2 million or so souls who work in tourism. There has been mass laying off of workers as hotels struggle to balance books, some hotels have just closed their doors. People rely on tourism for their very existence. A lot are young men who for the first time have tasted opportunity and income that was so cruelly denied them during the civil war years. The travel advisory is now denying them again. It is a cruel blow and may potentially have a far deeper impact."
If you want to read Jacks post in full you can find it here.
Researchers argue that the observed differences in the advisories and their categorization and severity may lead to imprecise, complex and non-harmonized information. As an example, the current advisory is currently the same for Sri Lanka as it is for Congo, but the situation is not comparable.
In Sri Lanka, we were struck by a terror attack by a global terror organization, meaning it's actually a global threat. The government has captured the people affiliated with the attacks and peace is restored. The country is open for arrivals, the government, the police, and the military is in control of the situation. The country is rated the top 1 tourist destination in 2019.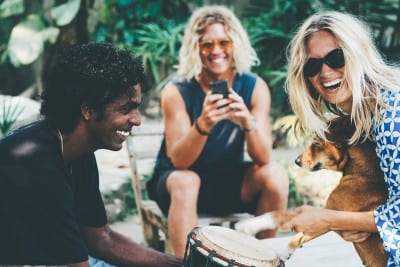 In Congo there is war in parts of the country for a long time, hundreds of different armed militant forces attacking the army, political instability with continuous protests, humanitarian issues such as kidnappings, torture, rape, public executions are happening as well as large human movements and widespread Ebola Virus. And the warning is the same for Congo and Sri Lanka, "don't travel unless it's necessary".
Of course, we recommend you to read the travel advisories carefully and it's important to take them into account before travel. But it's also important to understand the difficulties with them and that they are not black or white. We are sure the advisory for Sri Lanka will change soon.
I want to go anyway, but my travel insurance is not valid, what can I do? 
So you might have read somewhere that your travel insurance is not valid since there is a travel advisory. Best is to get in touch with your travel insurance provider and check as some insurance policies are still valid but some are not if the advisory from your country is at a certain level. If it's not covering you due to the current travel advisory, don't worry. You can get several different insurance policies specifically designed for traveling to places that have strict travel advisories. We recommend you to check out the following companies.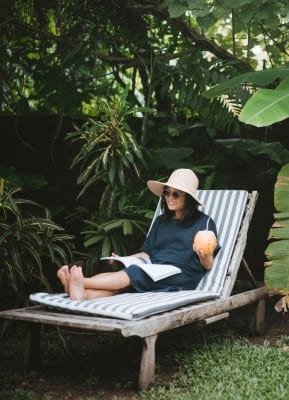 First Allied – For as little as 23USD per week, a UK citizen can get an extensive travel insurance policy for Sri Lanka, you can request a quote for your country online
Voyager Oasis – More expensive than First Allied and only provides coverage for EU and EEA citizens
Alpha – Is one of the big players in the travel insurance industry and has more than 12,000 reviews and review score of 9/10 on Trutsed Pilot.
Please note that we don't personally work with any of the above companies and can't recommend a specific one. These are just a couple of suggestions of insurance covers that we recommend you to look into in case your normal policy doesn't cover you due to the current travel advisory.
Why is your visit to Sri Lanka more important than ever?
First of all, it's an amazing place and you may never be able to see it so uncrowded again. Being through a thirty-year-long civil war that ended in 2009, the country celebrates 10 years of peace this year. Voted top #1 Country to visit in 2019 by Lonely Planet, it's truly one of the most amazing destinations to visit right now, more than that your visit will count more than ever for the country and its people.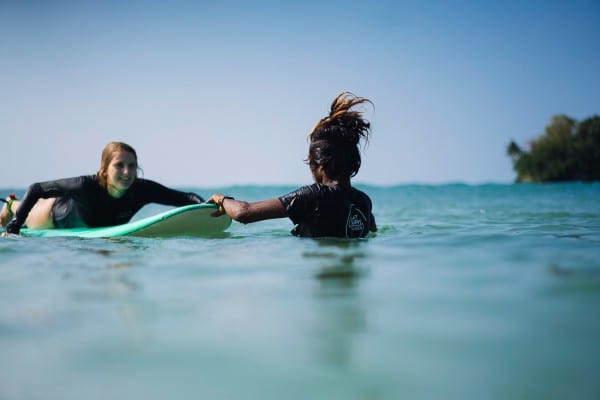 As a traveler, you have a big power to choose where to go and why. Because of the severe travel advisories, a lot of people are reluctant to visit at this moment and the 2+ million people that the tourism industry employ is losing their jobs. Hotels are laying off staff like never before and a lot of hotels even shutting their doors, because of the sudden lack of tourists they can't afford to be open. More than that, the people working indirectly with the industry are suffering just as bad, the tuk-tuk drivers are standing idle, fishermen have stopped fishing, the farmers have stopped planting, a lot of people are struggling to put food on the table.
A visit now is more than just a holiday, it's a statement, a way to use travel as a social movement standing up against the terrorists, standing up for your rights to live your life as you want and it's a decision to help a country that is struggling. By visiting you don't let the terrible acts of a few change the course for millions of lives.
What's the current situation like for a traveler?
Have a look at the below video and hear what it's like to be on the ground as a traveler. The tourists being interviewed actually highlight some of the amazing benefits of visiting right now such as:
Less crowd in the surf (we like that one)
Less crowded at all tourist hotspots such as temples, hikes, tea plantations, restaurants hotels etc, cheaper prices
Accessibility and ease of travel – less traffic on the roads, buses, trains
More security controls – feels very safe
Heightened security at the airport but still easy to arrive
Cheaper prices – a lot of good offers on hotels, trips, tours etc (like 40% off our retreats)
It might never be this uncrowded again, enjoy it while you can
Do you have any guests coming at the moment?
We have had arrivals every week since the attacks and have bookings every week moving forward. The last couple of weeks some guests have canceled and changed their dates which is understandable. But there are a lot of brave individuals who are coming nonetheless and form all over the world, UK, USA, Ireland, Sweden, Australia and more. And moving forward we don't get that many cancellations since we already feel our guests are confident to travel here again.
A couple of quotes from our guests who have decided to come nonetheless.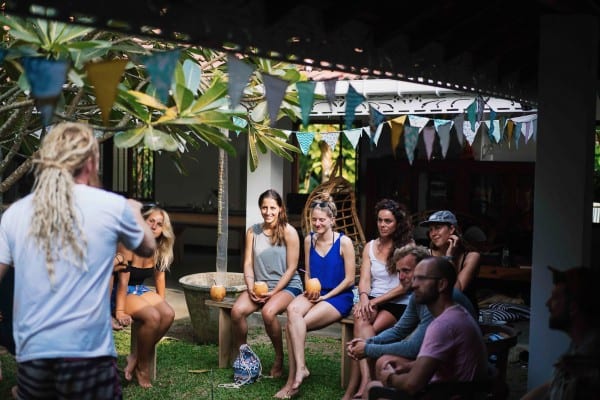 "After considering I´ve decided to go to the retreat… Sri Lanka has been calling me for some time, and it seems that now it is stronger!"
"Bonjour, Thank you for your message. I will maintain my trip to Sri Lanka. We won't let them win."
"Thank you very much for your prompt reply!!! No changes and we are very looking forward to meeting you! We decided that we still want to come to Sri Lanka and want to have a good time at sunshine stories"
"It's truly heartbreaking what has happened but I agree that we cannot allow such things to bring us down and disrupt the beautiful lives we all aspire to live together. I am still planning on coming to honor my stay."
At the end of the day, we will leave the decision fully to you as a traveler to determine whether if you feel safe and weather if you want to go now. We are certain that the decision you take will be the best whatever it is.
To give you one last reason to visit now, we are offering 40% off our retreats all summer (until 22 September 2019). Only valid for new bookings. Use code "THISISSUMMER". Book before May 31st.
If you have any questions don't hesitate to email us or call us directly.
To all of you, a big virtual hug and double shakas. Thank you.