The retreat is set in a 100-year-old colonial villa and beautifully tucked away under the palm trees in the jungle. Renovated in the footsteps of famous architect Geoffrey Bawa it's a very special place. Located in Ahangama, it's furthermore set perfectly right in the middle of Sri Lanka's surf paradise, surrounded by amazing waves, nice cafés and an authentic village life
It was love at first sight when we found this hidden gem tucked away from the noise of the busy Galle road. Our villa is about 100 years old and built in "Dutch Colonial Style." It is newly renovated in a Geoffrey Bawa colonial style with six bedrooms and a spacious courtyard built around a Frangipani tree.
The rooms are built around a courtyard with a big frangi pani tree in the center – this is the melting point, this is where we meet for our meals, do surf theory and hang out during the days
The villa is less than a 5 minute walk to the ocean, the village center, the bus stand, the train station and the fruit market. Furthermore, it's strategically set in Ahangama located on the middle of the south coast with all the best surf spots in the surrounding beaches. After spending both mornings and afternoons in the salty, bright sea it's nice to get back to the shade to practice yoga around the Frangipani tree in the courtyard or to drink a cool Sri Lankan "king coconut."
The villa is laid out with the courtyard in the center – this is the melting point, this is where we meet for our meals, do surf theory and hang out during the days. It makes a magical atmosphere.
How are the room arrangements?
We have six bedrooms and every one is unique in it's configuration. One room sleeps four guests and the other ones two. The standard rate includes a bed in either a 4-bed or 2-bed dorm room but there is the possibility to add on a private room or a double room with en-suite. When booking you're able to see the availability and the different options available. The rooms are comfortable with hot water, good matrasses, comfy pillows, and high-quality bed linens. All the rooms are fan-cooled since we're an air-condition free property. This allows us to stay more environmentally friendly and with the house is built in a traditonal way with natural ventilation it stays cool and very comfortable.
This is not for you if..
We are not the perfect option if you're looking for luxury accommodation with Ac and all the standard hotel amenities, or if you're after completely private space. The property is big and there is a lot of space to hang out in the garden etc. but it's not a resort. Instead, the house is built in a way for natural meetings to happen with all the action centered around the courtyard. It's absolutely perfect for the kind of experience that we're all for, and since we surf and adventure around most of the days, there is no time to hang out in your room anyway.
What is Ahangama like?
We live in Ahangama, a typical Sri Lankan buddhist beach village on the south coast. We live 20 minutes from Galle and 20 minutes from Mirissa. In Ahangama you feel like you are an authentic Sri Lankan town, not on a touristy beach community. Ahangama does not depend on tourists. There are only a few boutique villas hidden among the local homes. We think it's very special to live here. We buy all our fruits, veggies, fish and meat from our village. By supporting the local men and women, we get a part in their community and have been welcomed into their village. As our guest. we hope you will also feel welcomed.
Our villa is situated on the south coast close to the best surf on Sri Lanka, the beach communities of Midigama, Mirissa and Unawatuna and the picturesque Galle Fort. We have heaps of great waves just a short distance from our villa. Every day we check the different breaks and chose where to surf depending on the swell direction, the wind, and the crowd.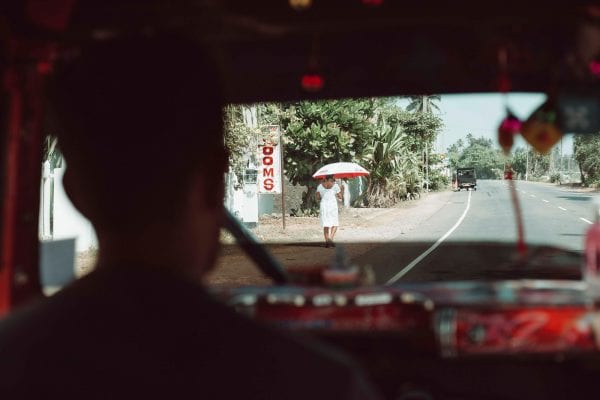 There are many smaller, quiet beaches, restaurants, and places to visit just a short tuk tuk ride from Ahangama. We know of a lot of sweet spots in the area. Some days we pack the jeep with a cooler of ice-cold beers and snorkeling gear and head to a lonely beach. On other days we drive to our favorite beach restaurant or go to Galle Fort to shop and drink an espresso.
If you want to hang out at a pool and drink mojitos, we know where you should go! Nothing is far away, and taking a tuk tuk to where you want go only costs a few bucks.