What makes Sunshinestories so special compared to other retreats?
The experience we have tailored at the retreat is how we love to live. It is a unique lifestyle and it's absolutely amazing to be able to share this with our guests. Our small family of staff is dedicated to making this experience unforgettable in each aspect, from the surf coaching to the yoga, the hospitality, and the other experiences, we here there for you the whole way. Our all-inclusive surf retreat weeks run Sunday to Sunday, year-round compared to many other retreats who just pop up for a week, this has given us plenty of time to perfect our service.
Not just surfing, not just yoga. It's a combination, it's a lifestyle retreat.
What retreats do you offer, and what's the difference?
Surf & Yoga Retreat – The surf & yoga retreat is what most people are here for, it's is our recommended package as it includes every bit and piece of the lifestyle we love the most – from surf to yoga to meals and experiences. You will get the most value for money with the surf & yoga retreat and the week will be tailored from morning until evening.
Yoga Retreat – The yoga retreat is perfect if you want to focus on yoga only. However the yoga retreat is more like opting out of the surf and not opting in for more yoga, so you will get a bit more free time in between for yourself! We strongly recommend all yogis to give the surf a go, there will be no better place in the world to learn to catch your first waves or to improve the more technical aspects of your surfing.
Surf Retreat – The surf retreat is perfect if you want to focus on your surfing and is not too interested in yoga. However, we strongly recommend to combine it with yoga while you are with us, as the unique combination will help you improve your surfing even more.
Stay, eat & experience Retreat – The surf, eat & experience retreat is perfect if you travel with someone else that does the surf&yoga, but you want to enjoy the experience at Sunshinestories without those activities. You will stay with everyone but you will be getting a lot more downtime for yourself, still, you will get to join the social activities, excursions, and all the meals. You can add the surf or yoga packages on arrival on your first day, but unfortunately, you can't add day by day as we sell it as a package.

What is included in a surf & yoga package?
7 x Nights accommodation: Sunday to Sunday in our Colonial Villa in a shared room
7 x Breakfasts
5 x Lunches
4 x Afternoon tea
5 x Dinners
5 x Sunshinestories surf theory lessons
5 x Sunshinestories surf lessons with surf coaching from certified, on-site Sunshinestories instructors
4 x Video analysis of your surfing (personalized video sessions with your surf coach, every surf session is video filmed and analyzed)
1 x Fun Reel & Weekly Surf Recap
10 x Yoga sessions
Free use of surfboards
Transport to the surf lessons
Video evaluation (in the end of the week we will do a final video analysis and give you personal goals to help you continue and progress as a surfer on your own)
Your own Surfing video (at the end of the week you'll get your best surf clips)
A cooking class making traditional Sri Lankan food with our chef
Guidance as to great local spots in and out of the surf and help to organize a day trip
The Sunshinestories Guidebook to Sri Lanka's south coast
Sri Lankan tea & freshly ground coffee throughout the day
And of course, unlimited fresh coconuts
What is not included?
Almost everything is included in the package however some things are not included since we also want to give everyone a little freedom over certain things such as; transfer to and from the airport, beverages if you fancy something special from our honesty bar, one lunch and two dinners out (we will take you out to show you some of our favoruites restaurants and cafés), transportation to "free surf," "free day" activities, and to the two dinners out, massage treatments, photo package, donations and tips.
What about the 20% 2-week deal?
If you want to stay for two weeks or more you will get 20% off the additional week(s) on all our retreats. It's a great deal and something we especially encourage surfers to do as two weeks gives a great amount of time to practice and progress in your surfing. The 20% off makes it an affordable option most guests don't refuse!
Why are all the retreats Sunday to Sunday? Can I join the retreat another day?
The retreat always starts on Sunday and ends on the following Sunday. Check-in is 2 pm and check-out is 10 am the following Sunday unless you stay for two or more weeks. To be able to offer our high quality we have to be very strict with these times. Unfortunately, we are unable to give any discount for the activities you miss due to arriving late or departing early, but it is possible for you to arrive or leave any day in the week, let us know and we'll arrange a transfer for that day.
We don't allow guests to arrive earlier than 2 pm on check in day as 10 am – 2 pm a holy time for us that we need to recharge for another week in paradise.
I arrive late due to my flight connection, what will I miss?
To arrive any time on Sunday is absolutely no worries! On Sunday the schedule is quite mellow, we have tea time at 3 pm, yoga at 4 pm, our introduction and first surf theory at 6 pm and then dinner at 7 pm. If you would miss out on any of those activities it's not the whole world as we can get you up to date on the intro and surf theory before you get in the water the next day.
The following day, on Monday, yoga is at 6 am, breakfast at 7 am and surf at 8 am. In order to join the surf, you need to be at Sunshinestories no later than 7 am that day, if you arrive later you will miss the first surf lesson. If that's the case our surf coaches happily will get you up to date with the theory you've missed out on later that day and get you ready for your first lesson on Tuesday.
My flight is arriving very early on Sunday, what can I do prior to check in at 2 pm?
That's great! Then you will have some extra time to unwind before joining our retreat. If you arrive early, we can recommend a few favorite restaurants nearby with swimming pools and beach access where you can relax and unwind at until you can check in.
I am leaving late on Saturday or early Sunday, am I missing out on anything?
We don't do surf lessons on Sunday mornings, and Saturday afternoon has quite a chill schedule and a dinner out in the evening, so you can potentially leave early afternoon on Saturday and not miss out on anything more than breakfast the following day, and the Saturday dinner out with the crew. Let us know if you will arrive or depart at special times and we can help you organize your check-in and check-out, if not, see you at 2 pm.
To where shall I fly in?
The international airport on Sri Lanka is COLOMBO (CMB). From Stockholm and Copenhagen, we recommend flying with Qatar Airways with a quick stop in Doha before landing in Colombo, Sri Lanka 12 hours later. We use momondo.com to find the best flights & deals.
Which season to go?
Sri Lanka is a great destination all year round with a tropical climate and sea and air temperatures constant throughout the year at 27-31ºC (80ºF). Sri Lanka has two distinct climate zones with two different wet and dry seasons.
Winter season (December-April) Sunny blue skies with offshore wind and waves in the 2-6ft range. This is considered the high season. Most spots can get fairly crowded, but less known spots off the beaten track have less crowds. Good season for surfers in levels 1 to 4.
Summer season (April-October) We normally get really good swells with waves in the 2-8ft range. Most
advanced surf spots get onshore winds; whereas, some of the best beginner spots still get offshore winds. This is considered the low season, so most spots in our area get little to no crowd. This season is great for surfers in levels 1 and 2. The summer is considered monsoon season, so we have occasional rains and thunderstorms in morning or evening which means the jungle is beautifully lush and green.
Shoulder seasons (October/November & April) The winds normally change mid-October with the swells in the 4-8ft range. It is a great season with big swells and offshore winds at all the spots in our area. November and October are affected by an inter-monsoonal period with occasional heavy rains. When people ask about October and November, we normally answer, "the jungle is super green and lush, not too hot, crowds are low, and surf is pumping! It's one of our favorite seasons." In April the bigger swells start to kick in again. April is not affected by the monsoon, and it's also a great period with few crowds and waves in the 2-8ft range. It's a good season for surfers in levels 1 to 4.
Do I need a Visa to visit Sri Lanka?
You have to get a VISA to enter Sri Lanka. If you are staying on Sri Lanka for less than 1 month, you can apply for a tourist visa online (Electronic Travel Authorization (ETA) via Sri Lanka's official site. Your passport needs to have two free pages and must be valid for 6 months after your trip. If you are staying longer, it is best to apply for a 3-month visa from the Sri Lankan embassy in your home country. The visa process is super simple and you will normally get your approval instantly, but no longer than 48 hours after application. If you would forget to apply, no worries, you can get a 30-day VISA on arrival as well at the airport. Last time we checked the extra charge was only 5 USD.
What's the best way to get to Sunshinestories?
We're located in Ahangama. Pronounced: A-han-gama. We work with good drivers and can arrange transportation from the airport or from anywhere else on the island to our retreat. Airport transfer through us costs 100 USD one way for an airconditioned vehicle for 1-4 persons, it includes a driver, highway charges, parking/entry tickets to the airport and all other fee's. Driving from Colombo Airport to Sunshinestories takes about 2,5-3 hours depending on traffic.
How can I pay for my retreat?
To confirm a booking we require payment within 48 hours via our payment service TAB Travel.
We will send out an invoice as soon as we get your booking request, usually within 24 hours
If not paid within 48 hours from getting the payment link the booking will automatically be canceled and the spot released for others to book.
The booking is inclusive of 15% VAT and local taxes
TAB Travel will apply an additional credit card fee when making the payment of about 4%, please note that this fee is charged for the payment and not by us, and that it's often adding up to be less than if you would pay with an international bank transfer
Is there any other way to pay other than using TAB?
Unfortunately, we are only accepting TAB payments at this moment. Sri Lanka is very limited in which payment methods are accepted because of the very strict banking laws, for example, Paypal, stripe, Swish, etc are not accepted. We are unfortunately not accepting International wire transfers since they take a long time to receive, and get rejected many times which means a big headache since the funds may be stuck between the two banks for several weeks.
What's the tipping culture in Sri Lanka?
In Sri Lanka, it's not mandatory to tip however it may be expected at some establishments that provide a certain level of service. We are receiving guests from all around the world, certain nationalities are more open to giving tips whereas others are not. Please note that Sri Lanka is a developing country and even small amounts can make a big difference. For a lot of people commodities that are standard for most of our guests, such as a smartphone or a pushbike, are just a dream that many people here may never afford to own. Extra cash will be a big support, it may lead to private classes for their kids after school or simply just what's needed to pay for the school literature. So if you are very happy with the service given at our retreat or any of the places you visit, we do recommend to consider leaving a tip since just a couple of dollars that go directly to the people can make a huge difference.
What's a recommended amount to tip?
We think that 5-15% is considered a good tip in Sri Lanka if you're happy with the service given at restaurants
At Sunshinestories we pay all our staff and suppliers good wages well above the minimum monthly wages and you are not obliged to tip. At the end of the retreat, you are welcome to give a tip in our tip box at your own consent which will be shared equally to all our Sri Lankan staff from the kitchen staff, surf coaches, housekeeping and the other departments.
If you are really happy with the experience and want to tip, we would recommend a Rs 5000-15000 tip per guest. This will then be shared among the team and since we are about 12 in the local staff team and the tip is for a period of seven days, giving a tip like this ensures the amount per person per for the week of work will be fair. You are of course free to give more than that if you are beyond satisfied 🙂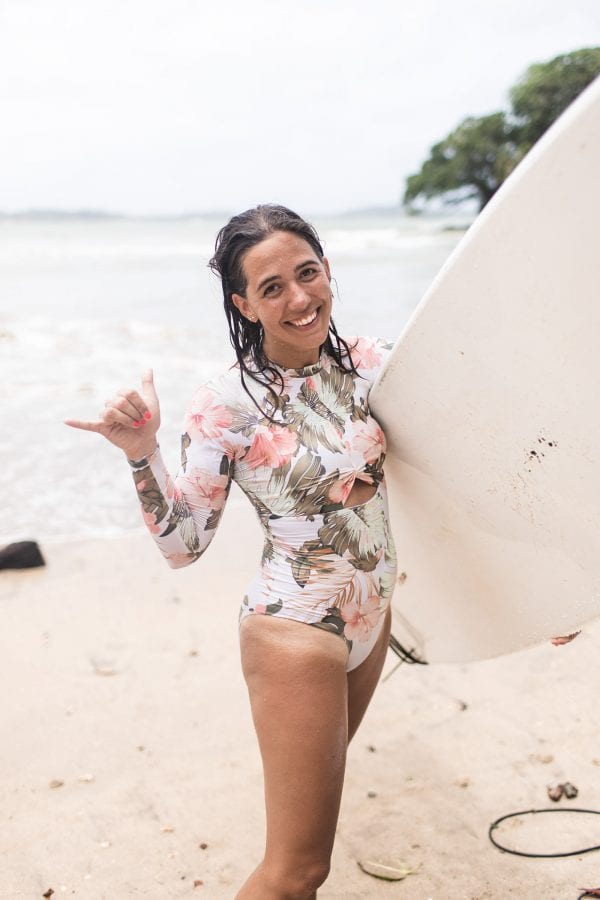 At local restaurants it's common to leave Rs 20-100 per meal and at restaurants with a higher standard, it's common with a mandatory 10% service charge added to your bill. This amount gets distributed equally to all the people working at the company, even to admin and management staff. Because of the service charge, it's not mandatory to tip. However, we still recommend a 5-10% tip on top of the service charge if the service was very good. If a restaurant has great service but not service charge, consider to tip at least 10% on your bill. We don't charge service charge at Sunshinestories.
At smaller local establishments and transport services, you may be charged more than a local. It's part of the culture here to charge as much as anyone is willing to pay, so please don't feel tricked. The best way to get around this is to learn the prices and rates in advance and also to feel okay to be charged slightly more than a true local. Always agree with the rate in advance, there will always be a "happy price" where both parties are happy, and if you're satisfied with the service at the end of the day, consider to give a tip.
I am afraid have to cancel my stay, whats your cancelation policy?
If you would need to cancel your stay or change the date, and you let us know more than 25 days before your stay, then we will refund any payments made to us as long as we can resell the places which we had been holding for you. We will charge a $200 per person admin fee to change dates or cancel the booking.
Date change is only allowed for a date up to 90 days apart from initial stay date.
If we do not have enough time to resell your place, or if you cancel within 25 days of your stay we will not be able to refund you.
It is important that you have travel insurance to cover any amounts that you have paid to us in this case.
The most common reason for last-minute cancellations are personal injury or a death in the family, so we advise that you check your insurer will cover you in these instances.
If your stay at Sunshinestories has to be canceled by us but due to reasons beyond our control (like a natural disaster for example), Sunshinestories is not liable for any refunds or travel costs so it's also important that your travel insurance should cover "operator cancellations", which most standard policies do.
Can I bring my kids to Sunshinestories?
Sunshinestories can be a great family experience, however, it's not something for all families. We do accept children from 10 – 16 — under parental supervision. Unfortunately, we are unable to accept children under 10 at the retreat. As we have limited spots at the retreat we are unable to give any discounts for children.
(Prices starting at $1099 for one week retreats)