OUR VILLA
It was love at first sight when we found this hidden gem tucked away from the noise of the busy Galle road. Our villa is 85 years old and built in "Dutch Colonial Style." It is newly renovated in a Geoffrey Bawa colonial style with six bedrooms and a spacious courtyard built around a Frangipani tree.
The villa is less than a 5 minute walk to the ocean, the village center, the bus stand, the train station and the fruit market. After spending both mornings and afternoons in the salty, bright sea it's nice to get back to the shade to practice yoga around the Frangipani tree in the courtyard or to drink a cool Sri Lankan "king coconut."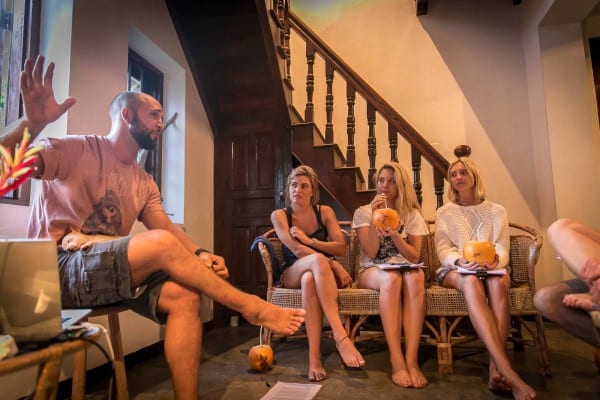 THE ROOMS
We have six bedrooms. Three of the bedrooms are larger and have attached bathrooms. The other three rooms have a shared bathroom. The rooms are all different —  some have double beds, some have bunk beds. All have comfy pillows and high quality bed linens. 
One of the rooms has a double outdoor shower where a cheeky monkey sometimes peaks down from a high palm tree. At night time you can take a warm shower while staring at the stars.
SUSTAINABILITY
We try to make as little impact as possible on the environment.
There is no air condition in the rooms. Instead, the house, built with thick walls and surrounded by palm trees, has a wooden upstairs and open ceilings to keep cool.
Instead of buying a lot of plastic bottles, you can fill up your water bottle at our Honesty Bar.
The warm water comes from our solar energy panel.
We don't have a pool, but are happy to help you get to one of the natural oceanic reef pools near to our villa, or if you fancy, we know of a hotel with an awesome saltwater pool.
Our food is sourced locally. Many things come straight from our garden including bananas, aloe vera & coconuts.
We support the local economy by hiring staff and buying food from the area.
Most spices, rice, and other food items are bought from farmers market by weight and not in plastic containers.
We separate plastic, paper, organic, glass, etc. We reuse what we can. For example, we use coconut shells as firewood.
We hire women – on Sri Lanka it's common that women do not work. Women traditionally take care of their household and family. Even if it's just a small step in the right direction, we're glad to be able to give them the opportunity to earn their own salary.
THE FOOD
Petter and I love food! Petter has grown up around the tables of his parents' restaurant in Torekov, Sweden. And, the way to my heart is through my stomach..
We hope you love food as well! Breakfast, lunch and most of the dinners are included in the retreat package. Breakfast includes eggs, buffalo curd, fruit, bread, juices, coffee and Sri Lankan tea. Sri Lanka makes the best tea in the world. But, the coffee in Sri Lanka is unfortunately not as good as the Sri Lankan tea, so we fly in our coffee from Sweden and grind it fresh every morning. For lunch, our chef makes traditional Sri Lankan rice and curry from local ingredients and homemade coconut milk. The Sri Lankan rice and curry is packed with anti-inflammatory spices and herbs. I, Linn, who suffers from rheumatism never feels as good as I do when I'm eating rice and curry once a day. For dinner we get to enjoy the gifts of the ocean. Our chef makes a variety of seafood based dishes for dinner.
OUR VILLAGE
We live in Ahangama, a typical Sri Lankan buddhist beach village on the south coast. We live 20 minutes from Galle and 20 minutes from Mirissa. In Ahangama you feel like you are an authentic Sri Lankan town, not on a touristy beach community. Ahangama does not depend on tourists. There are only a few boutique villas hidden among the local homes. We think it's very special to live here. We buy all our fruits, veggies, fish and meat from our village. By supporting the local men and women, we get a part in their community and have been welcomed into their village. As our guest. we hope you will also feel welcomed. 
OUR SURROUNDINGS
Our villa is situated on the south coast close to the best surf on Sri Lanka, the beach communities of Midigama, Mirissa and Unawatuna and the picturesque Galle Fort. We have heaps of great waves just a short distance from our villa. Every day we check the different breaks and chose where to surf depending on the swell direction, the wind, and the crowd.
There are many smaller, quiet beaches, restaurants, and places to visit just a short tuk tuk ride from Ahangama. We know of a lot of sweet spots in the area. Some days we pack the jeep with a cooler of ice-cold beers and snorkeling gear and head to a lonely beach. On other days we drive to our favorite beach restaurant or go to Galle Fort to shop and drink an espresso.
If you want to hang out at a pool and drink mojitos, we know where you should go! Nothing is far away, and taking a tuk tuk to where you want go only costs a few bucks.
(Prices starting at $1099 for one week retreats)