This past week we had longtime friend Nina Brooke join the retreat. Nina was in Sri Lanka exactly one year ago doing an artist residency at Ceylon Sliders. This year she came back to surf and yoga with us here at Sunshinestories surf & yoga retreat.
What were your thoughts and expectations before you came to Sunshinestories? 
My thoughts were pure excitement about the week ahead. I was looking forward to taking some time off work and relaxing with yoga, surfing and eating good food. I was also looking forward to improving my longboarding skills. I knew I wasn't going to have to make any decisions and be looked after from the moment I arrived and sure enough, I was right!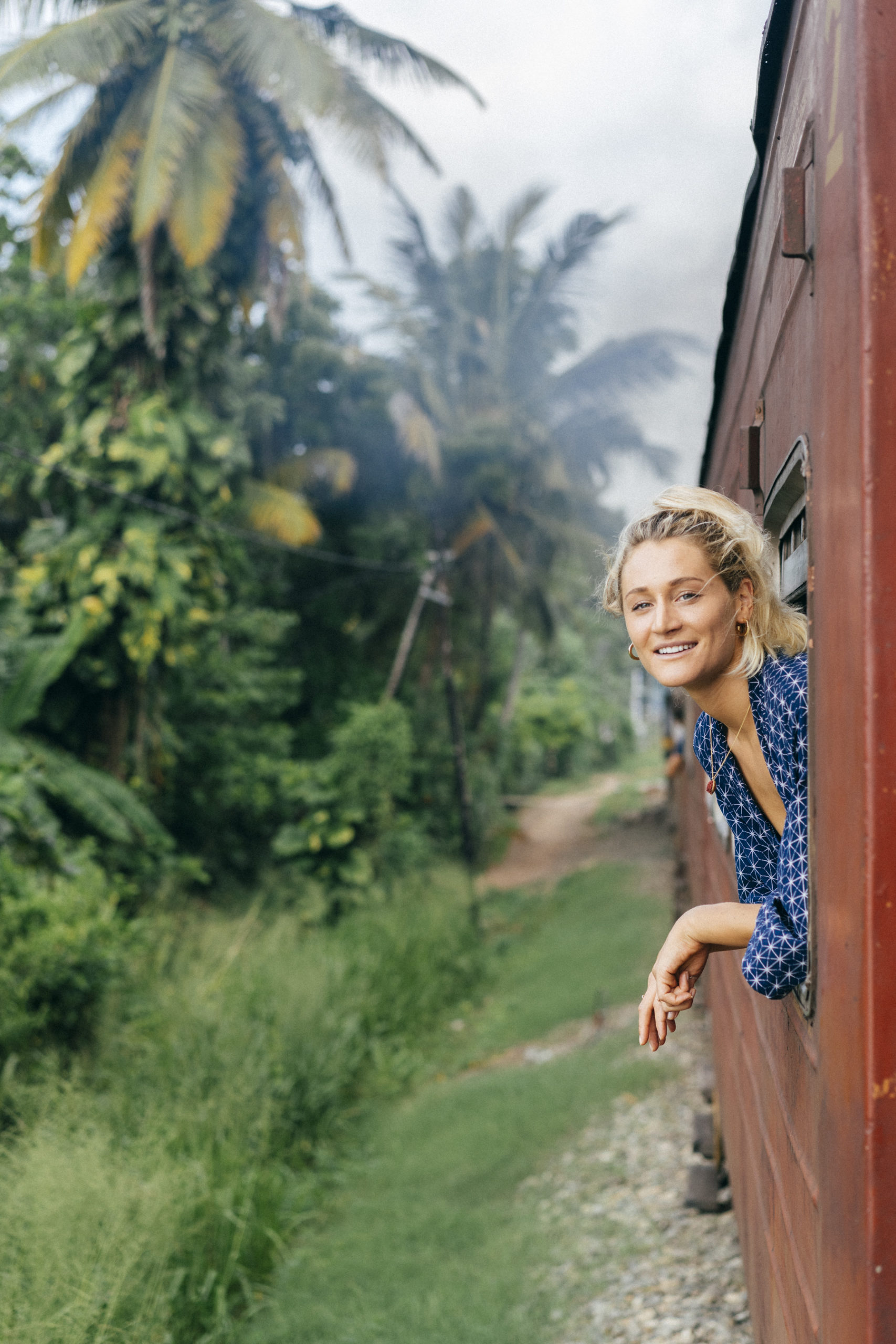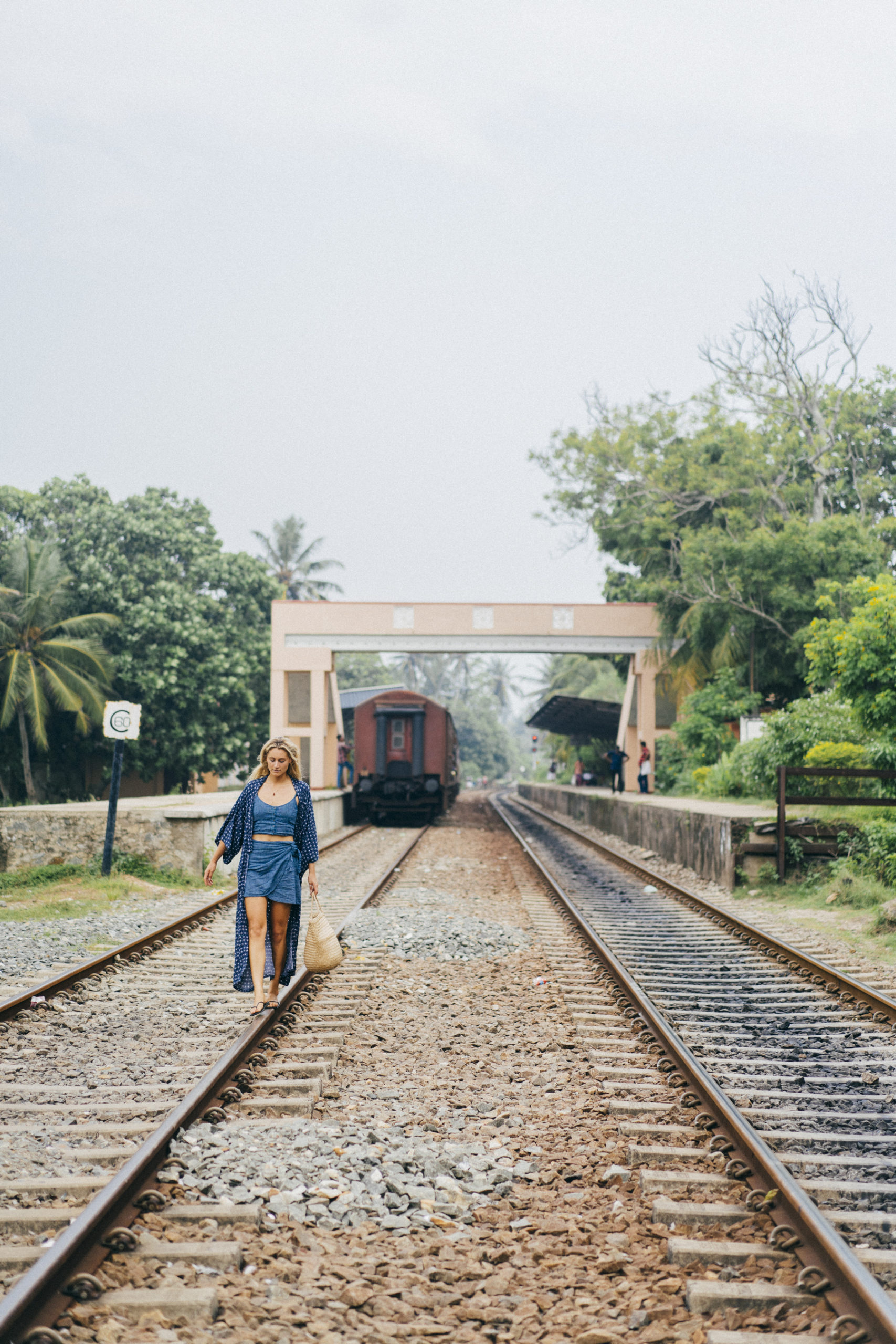 Did you join in on the yoga? What benefits did you see with accompanying surfing with yoga? 
Yeah, I was always there of the 6 am sessions. It really, really helped with the surfing. I was much more in-tune with of my body. The two work really well together. I wish I did yoga before surfing and after at home.
At Sunshinestories we teach complete beginners to surf but also coaching already experienced surfers. All our surf sessions are filmed and then analyzed. We also offer surf theories with everything from positioning to board theory. How did you like it?
I really enjoyed the surf film analysis with the surf instructors at SS. I learnt so much from the team. Even being well informed with surf and board theory having surfed from my younger teens, there was still tips and ticks to pick up on that changed my surfing mindset.
While Nina stayed with us she surfed the picturesque fisherman's reef. Not only is the reef surrounded by beautiful Sri Lankan lifestyle but from above is where Nina finds most of her artistic inspiration. As you can see it's stunning. After surfing, Nina set up a little makeshift studio in our backyard right next to the jungle.
Now looking back at your week with us here at Sunshinestories, how did we live up to your expectations?
Yes, of course SS lived up to my expectations and so much more! I really felt it was a week of a perfect Sri Lankan experience, jam-packed with surfing, learning, food, yoga and culture. We all made the most of the days spent in this beautiful country. I was so inspired to create new work here at SS. Hey – I even had time on my own to get my paints out and recreate the moments made at the retreat.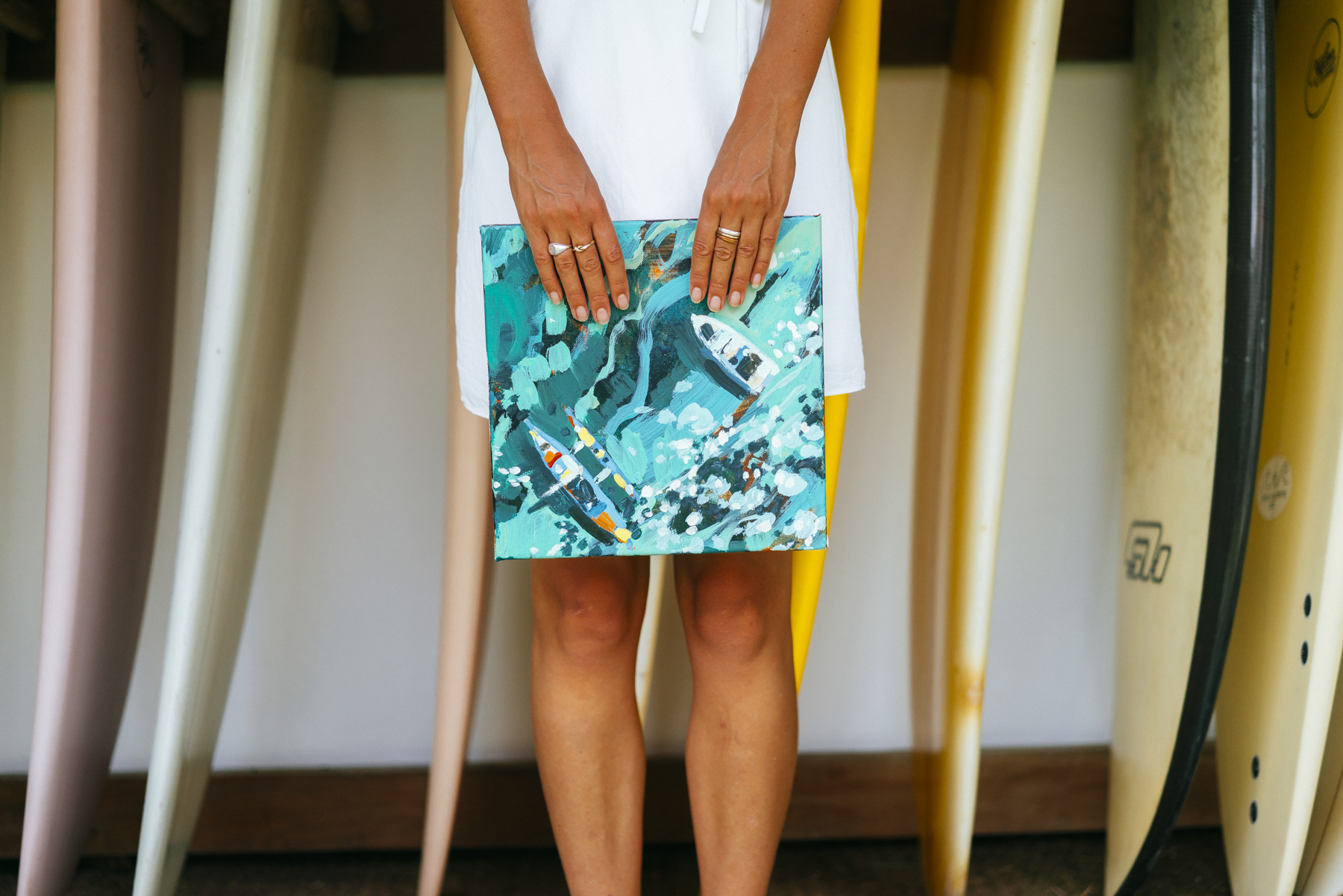 And lastly, did we manage to develop your already very good surfing? 
Ha ha! Yes, it was really interesting to go back to the fundamentals of longboarding. I was never taught to longboard, so the tip and tricks and methods made it clear and I felt like I learnt a new funner way of surfing. I can't wait to carry that with me into the future. Especially in Cornwall!
Who would you recommend Sunshinestories to? 
I would totally recommend this to any friends that was looking for the whole package. SS has so much to offer. I would recommend it to any friend and family. Anyone looking to improve their surfing, or just do a little yoga and eat the best food in Sri Lanka! Its a week of amazing experiences!
Click here to book your surf & yoga getaway with us.
All photos by Lachlan Dempsey.
Follow Nina on her Instagram and find some of her work on her website. We also have a small selection for sale in the Ceylon Sliders shop in Weligama.