In each lesson, you'll learn a particular skill, but even more important you will know why you are learning it.  With daily in-water lessons, video analysis, surf theories, and surf-yoga along with the amazing meals and mini-adventures in the afternoon, we believe we've created the best possible environment to improve on your surfing whilst having a lot of fun.
Our surf methodology
At our surf camp, we're not only going to teach you how to surf, but we're also going to have fun sharing waves while giving you the tools to become a great surfer. This is the foundation of our surfing methodology and this is how we'll coach you to become a better surfer. Together with avid surfers Nick Holmgren and Mitch Wolhuter, both with 10+ years of coaching experience, we've developed our very own way of teaching surfing. It's fun yet intuitive and just progressive as you want it since you'll also get individualized surf lessons. Many technical aspects of surfing can initially feel contradictory, so our surf philosophy is that good instruction is the key to improve your surfing. On the other hand, we think the best surfer is the one having the most fun. Both elements are seamlessly integrated into the surfing methodology that we've developed to create the best possible learning experience.
We're not only going teach you how to surf, we're going to have fun sharing waves while giving you the tools to become a great surfer.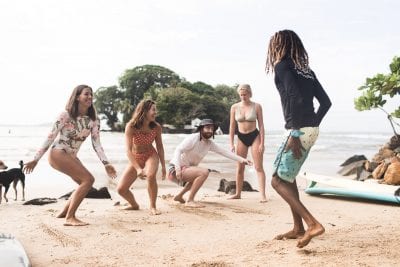 In each lesson, you'll learn a particular skill, but even more important you will know why you are learning it. We want to create clarity in the way we teach, so each lesson is linked in a fluid way to encourage learning. Our vision is to help you catch good waves, but above all to have plenty of fun together in the ocean! Our surf coaches are ISA & ILS certified, which is the universally recognized, global standard surf coaching and surf safety.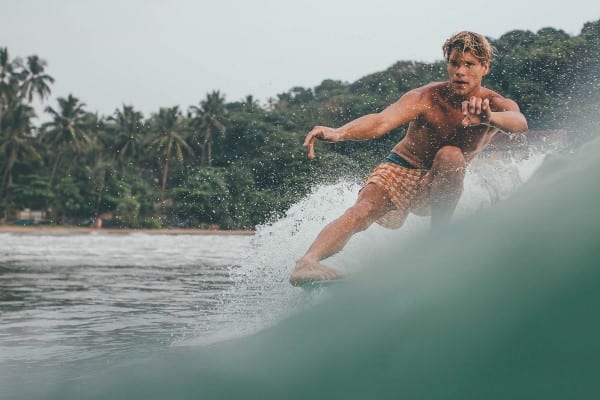 Our surf coaches are ISA & ILS certified, which is the universally recognized, global standard for surf coaching and surf safety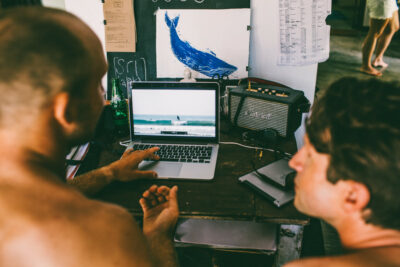 Because surfing is very much based on learning through experience, it is a challenge as a surf instructor is to convey one's knowledge to others. Therefore, we supplement practical lessons with theory and analysis on the big screens and whiteboards in our classroom at the surf camp. Each day we have a theory lesson that covers all the aspects of surfing including wave forecasts, surfboard design, surfing ethics, and safety. Every lesson in the water is filmed, once we are back at the surf camp it's giving us a great tool to show you exactly how you surf and what you need to do to improve.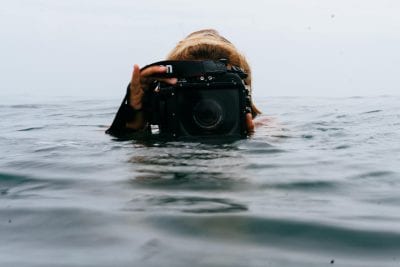 Every lesson in the water is filmed giving us a great tool to show you exactly how you surf and what you need to do to improve
Another belief of our is quality above quantity and that's the reason why we only go surfing once each day and not two times per day. Instead of pushing our bodies to the limit, the remaining time is spent on coaching out of the water in the shape of daily video analysis, a daily theory lesson, and yoga twice per day. This along with some must need downtime and the opportunity to add on massage therapy sessions specifically designed for surfers makes your body and mind 100% ready and rested to make the most of the following morning surf session.
Quality before quantity is our ethos
If however you're an avid surfer and are looking to maximize your time in the water it's easy enough to
borrow one of our boards, grab a tuk-tuk down to the beach in the afternoon and go for a free surf. You won't miss any of the theory or video analysis but you may miss a couple of afternoon activities, yoga sessions, or excursions but this way you can squeeze in surf twice per day during your entire stay.
At the end of your stay, you will leave with the tools to continue your development! To top that off you will receive the footage of your surf as your own little surf video. And, because we want to create a lasting relationship with our guests, your development is logged in our Surfer's Profile so that the next time you visit we can continue where we left off. These are some of the reasons why we have so many returning guests to sunshine stories.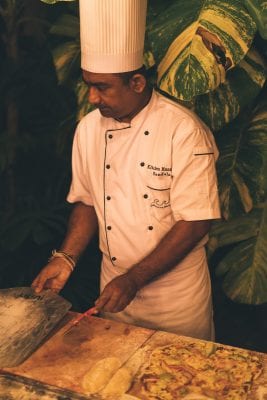 Pizzas and a couple of beers in our backyard makes for a great evening, we love tasty food and good vibes and make the most of the experience out of the surf every day
Surfing on Sri Lanka
Located on the southwest coast of Sri Lanka, our surf camp is in the middle of surf mecca and are surrounded by great surf. The coastline is packed with surf brakes. We have more than 20 breaks to choose from just a 5-minute tuk-tuk ride north or south from our villa. There are waves for everyone — small friendly beach brakes, long peeling point breaks, shallow reefs, and perfect barrels.
We have more than 20 surf spots to choose within a short tuk tuk ride north or south from the surf camp
Typical spots near the villa include Ram's right, Lazy Left, Lazy Right, Plantations, Weligama, The Rock, Kabalana, Fish sticks, Coconuts and many more. Every day we do a spot check to find the best surf spot suited for the conditions and for your surfing level.
Surf Spot Guide
Weligama Bay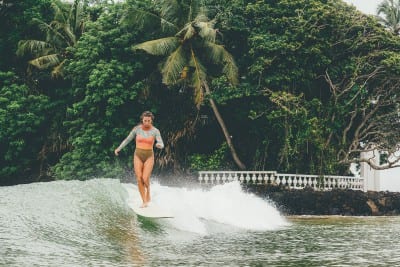 The gentle waves roll over sand bottom all the way into a huge protected bay. Depending on the wind we can always find a corner to surf. This is the go-to spot for beginners learning how to surf for the first time but can also provide fun longboard waves as well as shortboard waves depending on the day and what section in the bay you look at.
Marshmallows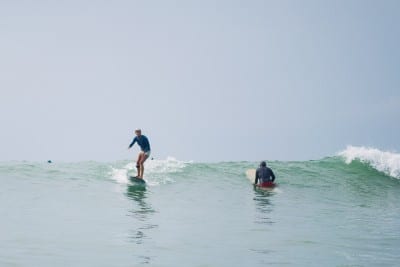 One of our secret surf spots that has started to get some attention because it's so tasty!!! As the name suggests it's soft and spongy, it provides long rides from left and right, with wide faces, great once you've learned to pop up and want to learn how to surf the face of the wave.
South Beach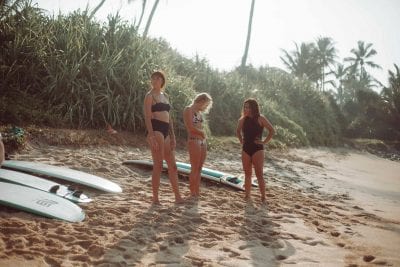 Long soft righthander in front of a beautiful secluded beach, great for learners as it's providing a couple of different peaks and a wide channel to paddle back out in. Can get sizable on a swell and provide fun walls even for the experienced surfer.
Rams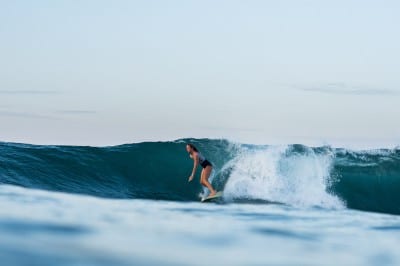 Powerful and short righthander hitting a shallow reef shelf, providing short hollow rides with cover-ups to be had for the skilled surfer. Super fun and usually not too crowded since most surfers either know to stay away or learn to stay away. If you don't know your way around a shallow reef it will eat you alive.
Lazy Lefts + Rights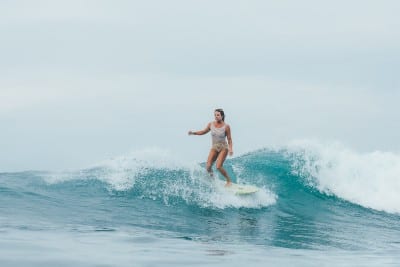 This is the go-to spot for most intermediate surfers, a small bay providing a left on one side and a right on the other. The left can get hollow in front of the rocks but a bit fat on the shoulder runs for ages and has a wide channel to paddle back out in. The right is probably even longer if you catch the right wave. Both waves can pack a big crowd since a lot of learners are staying in Midigama where the surf hostels and homestays are plentiful.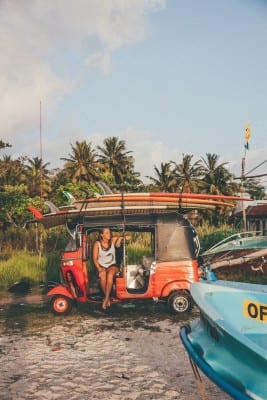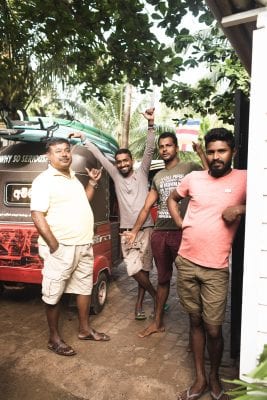 Our tuk-tuk boys know all the ins and outs in the village and have just the right recipe to make the day fun, surfboards on the roof, a shaka hard to match, and a smile you'll never forget
Surfing for all experience levels
Our surf coaching is for everyone, from complete beginners who never stood on a board, those in the keen to progress and learn how to turn the board and surf the face of the wave or for the shredders, the avid surfers wanting to learn how to do cutbacks, floaters or hang tens. Shortboarding and classic longboarding our coaches have not only perfected these skills themselves but also the way they teach them to you.
Level 1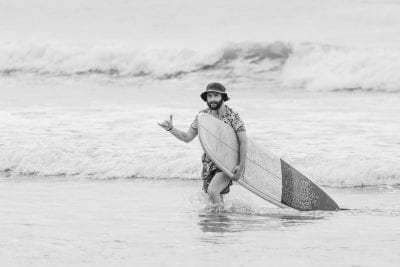 No one is too young, too old, too big, or too small – surfed to little or to much. We can teach everyone how to surf, our youngest student has been 3 years and our oldest 75. Year-round we are blessed with great white water waves hitting long sandy beaches giving the perfect conditions for learning how to surf. With you in the waves are our English-speaking ISA certified surf coaches with lifeguarding training. The surf spots we go to are their own backyard and they know precisely how to get you up and standing in no time. In the classroom back at the surf camp we will dive deeper into the different aspects of surfing, each daily surf theory will have a new topic that ranges from board theory, surf forecasting, speed generation, or how to catch waves on your own. More importantly is maybe the group dynamics, being surrounded by other like-minded souls wanting to improve on surfing makes a great learning environment where we will exchange. Most of our students will stand up on their first day, and by the end of the week progressed all the way to level 2, which you can read more about below.
Level 2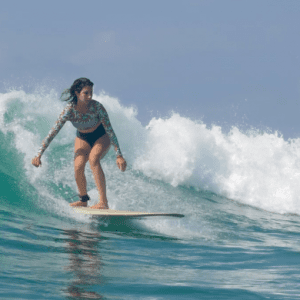 Sri Lanka is home to those mellow reef and points breaks with wide channels, it's probably one of the densest places in the world with mellow waves. This is great for Level 2 surfers who already know how to pup up but want to learn how to surf the face of the wave, how to pump and generate speed, find the take of spots, work on your surf etiquette and catch waves with pripority. In the theory lessons and video analysis sessions, we'll dive more into the different skills and coach you on a personal level to become great at surfing.
Level 3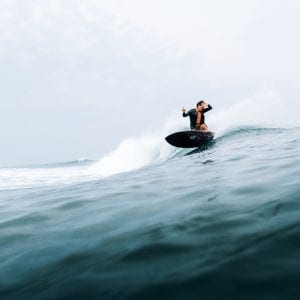 No surfer is too good for us. If you're an advanced surfer we'll have a proper chat with you about your expectations prior to starting the week. What skills are you wanting to perfect? Speed generation? Cutbacks? Tube riding? Floaters? Noserides? We have a system to teach all of these skills and more, just let us know and we'll make a plan. After each surf, we will do 1-1 video analysis sessions and this is where we might learn the most. We can pull up your wave side to side with a tour professional and compare your every movement.
Surfboard designs
At the surf camp, we have a quiver of more than 30 different surfboards. Our own personal collection of surf crafts from some of the best brands in the world, free for you to use.
Beginner boards
Soft boards are the bomb for beginners. They have a soft deck (top of the board) so they don't hurt if you fall on them as well as plenty of volume to allow for easy wave catching. We have soft boards in all sizes from 6ft to 9ft.
Hard Tops
Our hardtops refer to 7-8ft hard surfboards, we use NSP who are world-leading in making these kinds of boards. In the tail (back of the board) are three hard fins instead of soft fins. The boards are thinner and lighter which will make it a bit harder to catch waves but will give you the opportunity to control the board more easily, turn and surf the face of the wave.
Advanced surfboards
We have everything from 6-7ft thrusters, mid-length classic single fins 7-8ft, classic twin fins from 5-6ft, longboard nose riders 9'4 or 9'6 both from our own shapes done by our sister company Ceylon Sliders as well as from world-leading Bing Surfboards, yes you heard it right, we have Bing Surfboards for our guests to use. These boards are like the Rolls Royce of surfing.

It's not just a surf camp,
it's not just a yoga retreat,
it's a Sunshine Stories retreat.
(Prices starting at $1099 for one week surf camp)