Name: Hanna Bellman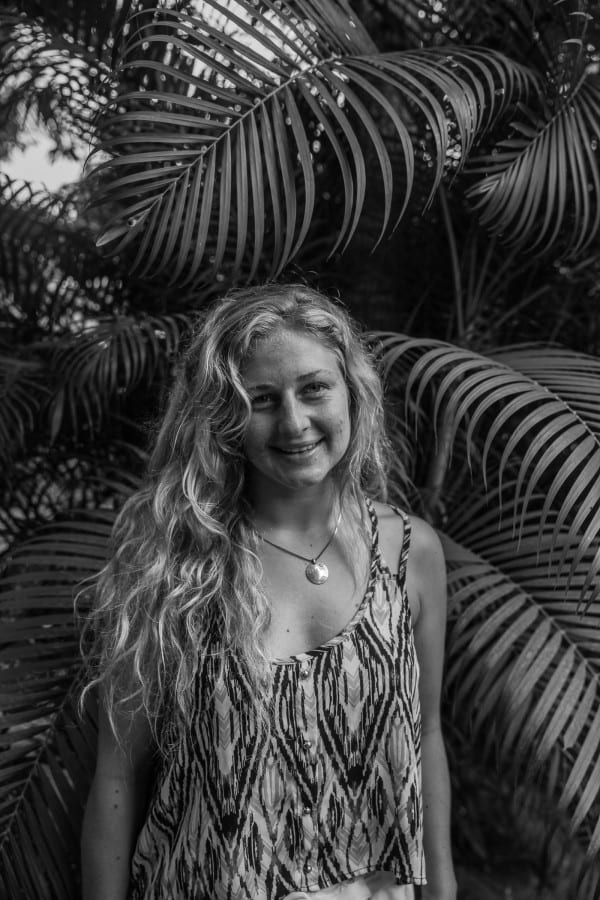 Age: 27
From: Falkenberg, Sweden
Job at Sunshinestories: Yoga Teacher
Favorite thing about Sri Lanka: The uncrowded waves and the winding train rides! 
Words to live by/favorite quote: On my travel adventures two quotes have long inspired me: "Where there's a will there's a way" and "No falta nada, solo disfrutá" (Nothing is missing, simply enjoy). These words have encouraged me to fulfill my dreams and to push my limits. Finding balance somewhere between accomplishing goals and simply enjoying what I am doing is a big challenge for me – yoga and meditation is my way. 
What is your yoga background?
I am currently doing a master of science in psychology and my studies have taken me around the world and got me into yoga. When studying in California a friend took me to morning yoga up on the cliffs overlooking the Pacific Ocean – I fell in love with the practice and started to come back regularly. I also attended a weekly meditation group at the university. First I felt I was wasting precious study time sitting on the floor doing "nothing", but the more I practiced the easier it got and I started to feel a change within that kept me longing for more…
Next I found myself in Hawaii along with all my kitesurfing equipment and a dislocated shoulder tied into a sling. I exchanged my tropical kitesurfing dream for 10 weeks of physical therapy and my restlessness drove me bananas… Desperate to do something with my body I started to do yoga every morning. On my blue yoga mat I found a peacefulness that helped me cope with my frustration. Yoga became a way for me to find focus within and get to know, respect and prepare my body for the active life I so badly wanted to live.
More studies awaited me in Australia. I signed up for a yoga membership before even finding a place to stay and my kite was finally up flying again. Demanding studies and my high ambitions were pushing my limits and doing yoga was my escape from worries, performance anxiety and stress. Above the physical and mental benefits I experienced from it, I also started to realize how strongly connected yoga was to the subject I was studying. I took courses in Positive Psychology and it included concepts of mindfulness which appeared to be very much related to both yoga and surfing. I was – and I am – stoked!!
So, I headed to Nicaragua to take my yoga teacher training at a surf and yoga retreat. It was paradise; yoga on the beach and surfing every day. Both myself and my dreams grew here. Back in Sweden I created my own company Boost & Balance (www.boostandbalance.com) and started to give yoga and SUP-yoga classes. This summer has been amazing teaching here at Sunshinestories!
What is your philosophy on yoga?
Yoga is a fantastic way to exercise your body – to build strength, to improve balance and to gain flexibility. Above this yoga is a practice of being who you are and experiencing what is going on in this very moment. In a world where we are taught to be constantly planning our future and evaluating our past I think this is harder than it sounds. This is made especially hard by the endless opportunities we have to stay connected and updated at all times. I think we can gain life quality from actively practicing mindfulness – our awareness of what is going on in the present moment – and I think yoga is an awesome way to do so. I have been taking courses in a psychotherapy method called Acceptance and Commitment Therapy (ACT) and this fall I will be taking a mindfulness teacher training. My hope is to be able to integrate yoga, mindfulness and ACT into my future work as an up coming psychologist – with the mission being to help people find their own meaningful way of living.
When did you start surfing?
When travelling Europe after graduating high school I was put on a surfboard for the very first time by my friends. Since then most of my trips have taken me to surfy desinations all over the world. Coming from a small coastal town I grew up with the beach as my backyard and playground. Being in, on or even just near the sea has always had a spell-like effect on me – making me feel free, alive and at peace.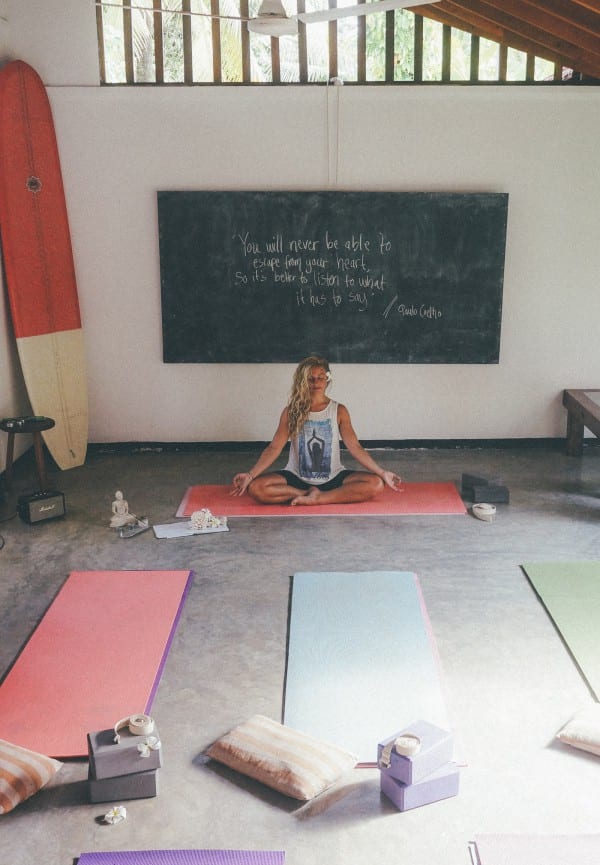 What do you think is the relationship between yoga and surfing?
Surfing is a beautiful way of experiencing mindfulness with your surroundings. Waiting for waves in the powerful, always changing ocean pulls you into a state of mindfulness. In yoga you actively need to direct your wandering attention to something happening in the present to make yourself mindful of what is going on within you. I think surfing and yoga are two fantastic ways of enjoying the beauty of life as it is happening right here and now, letting go of worries from the past or stress about the future. This is not to mention the physical aspect of both practices. Yoga is great to prepare and restore your body for the hours of paddling, graceful wipe outs and dancing in the waves.
What are your favorite parts of working at Sunshinestories?
Living the Sunshinestories lifestyle! The Sunshinestories concept is truly beautiful and gives me inspiration for how I wish to build my dream life. Early bird meditation, yoga and surfing followed by healthy, delicious and beautiful food, topped off with a good nights sleep – together with inspiring people from all over the world sharing the desire to simply enjoy the small things in life. That is pretty awesome for a job!!