From: Cornwall, UK
Role at Sunshinestories: Surf Coach
Favourite surfboard: Channel Islands bunny chow 6′. Its Jordy Smith's signature model, built for the bigger surfer as he's a beast. I'm doing my best to surf like him. It's slow in progress. Haha.
Words to live by: So many words to live by… Go hard or go home applies when talking about surfing… Just gotta have fun, whatever you do, life's too short not to!
Favourite thing about Sri Lanka: Where do I begin? I have travelled to a lot of countries surfing, and the people can make or break a trip. Sri Lanka definitely has amazing people. They are all so friendly, it makes such a difference. Josh and I have also started a new motorbike gang: Ahangama Rebel Motorcycle Club, or ARMC for short. We don't do much as a club, and it's just the two of us at the moment, but we think we are cool. If you have a bike you can join, after passing some vigorous tests… one being that you have to down a can of lion. If you think you have what it takes let us know! One more thing, veggie rotis, I have at least one a day, the spicier the better!
Favourite surf break in Sri Lanka: Again too many to choose from! We are spoilt for choice here, so many spots in a very close proximity. If I had to choose it'd be Kabalana; fun racy left hander that holds it size and shape even when the wind is on it. I've had some sick surfs there, and always get excited driving there when I know the waves are on the cook!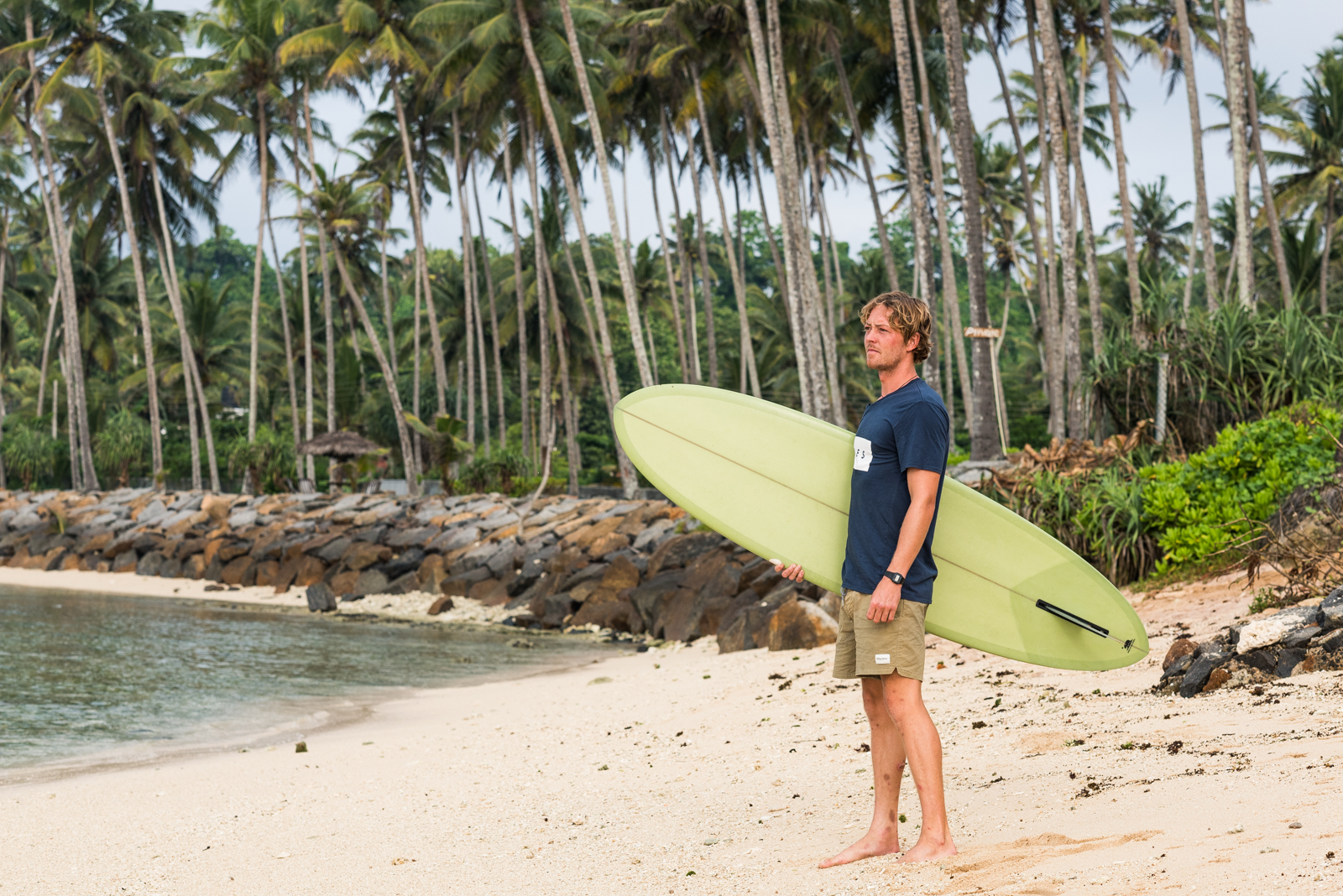 What is your surfing background? I was lucky enough to be born and bred in the motherland known as Cornwall, England. I basically grew up on the beach, my Mum used to get me out of school when the waves were good and we used to surf while my mates were still in school. She's a legend, I wouldn't have started surfing if it wasn't for her love of it. I have her to thank for where I am today, and the places I have been. You rock Mum! So I grew up surfing and learning from others around me. When I was old enough I started to travel to other countries and developed a love for surfing, travelling, meeting new people and eating strange food. I think I've surfed almost everywhere that people say they travel to to surf… Except Central America, that's top of the list for the next trip for sure!
What is your favourite part about working at Sunshinestories? You guys don't make these questions easy, huh? Where do I begin? Let's start at the top: Petter and Linn are probably the coolest bosses I have ever worked for, and I'm super grateful they have included me in the Sunshinestories clan. That's where they come in, the rest of the staff are actual legends, I won't talk about them individually because I'll be here all day but you guys are awesome. And as much as I pretend I hate the bugger, working with my best mate Josh here in Sri Lanka is too good. I don't think I'm ever going to leave! Finally, the guests we have here have all been the coolest people, and seeing their stoke for surfing makes it all worthwhile, when it comes to the end of their stay it's actually very hard to say goodbye! But it is good to know I have helped them with their surfing careers and that they'll continue to shred elsewhere. Just keep surfing, what else would you ever wanna do?
All photos by Mitch Fonghttp://www.mitchellfong.com