Name: Tosca Wilson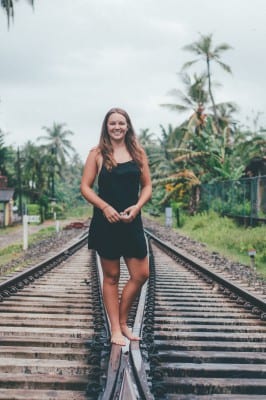 Age: 23
From: New Zealand
Job at Sunshinestories: Front Desk & Social Host
Words to live by: Wherever you are, be all there & if you can be anything, be kind.
Favourite thing about Sri Lanka: The beaches are dreamy and the food amazing! Also the wildlife here is incredible and just going about daily life you can have some unreal encounters. You can spot wild elephants right on the roadside or big sea turtles during a beach walk. Here at the retreat we can step out the backdoor into the jungle garden and watch the local monkeys feasting on the bananas or jumping around way up the coconut trees.
Favourite part about working at Sunshinestories: Every week I get to share a full schedule of yoga, surf and good times with a new group of guests. There are always good chats to be had and I enjoy getting to know everyone and hearing their stories about life and travel. Sunshinestories seems to attract some pretty special people from all different parts of the world and I love having a job that allows me to cross paths with them all.
Follow Toscas life at Sunshinestories on her instagram: @toscamoana
Photos by Anne Justine Houser