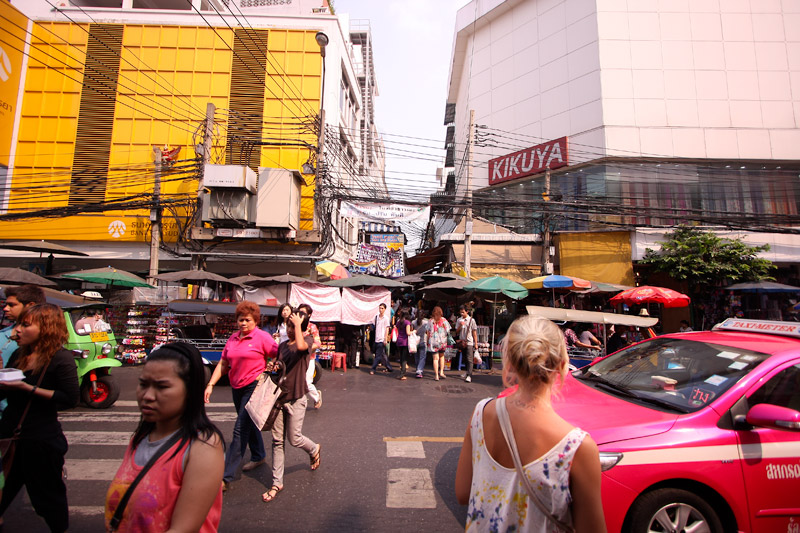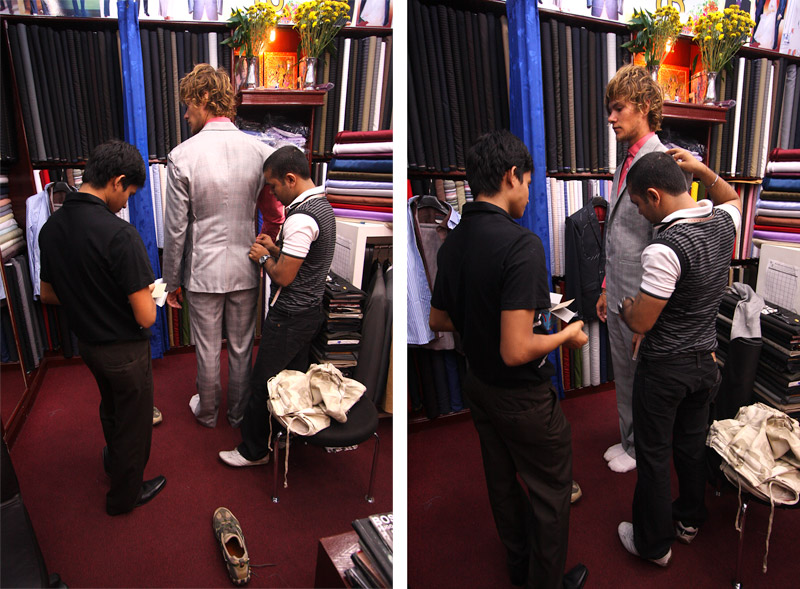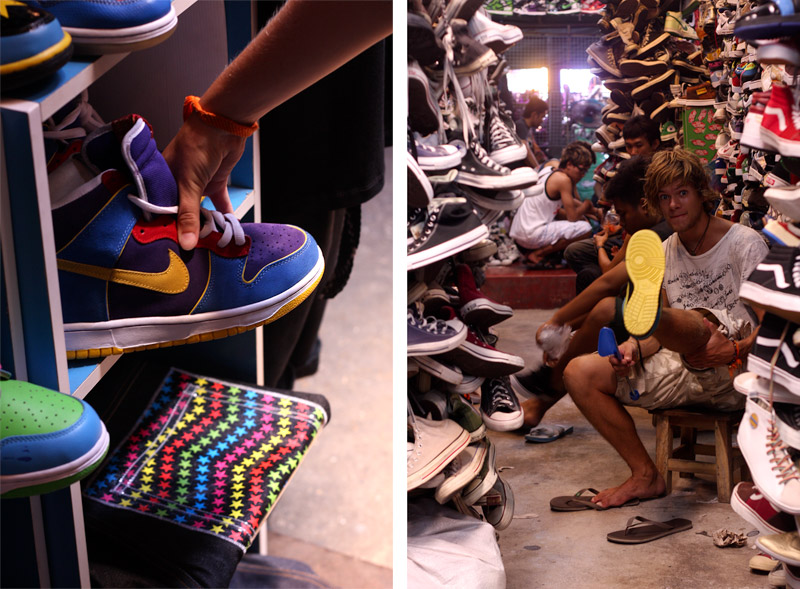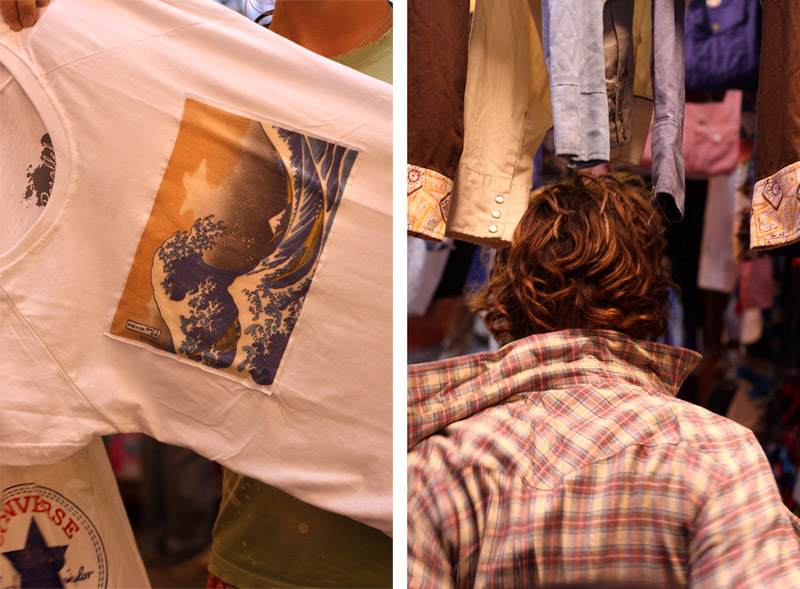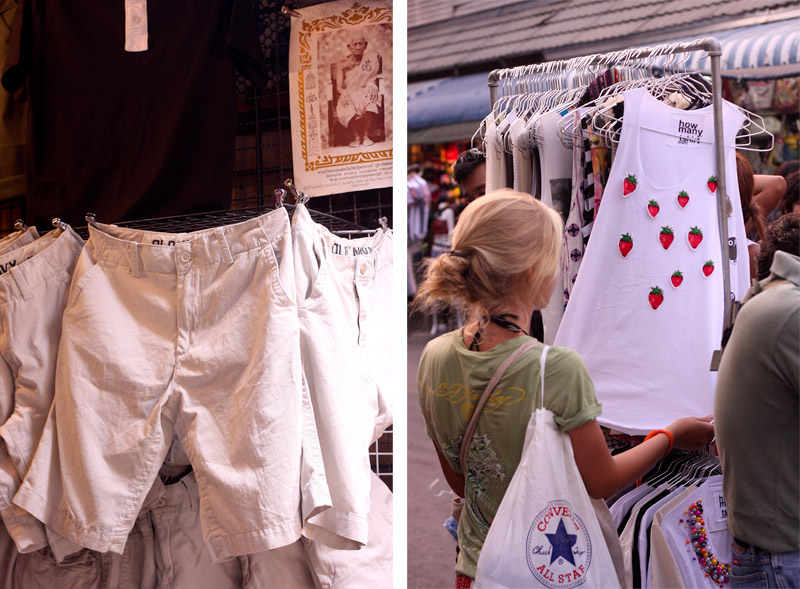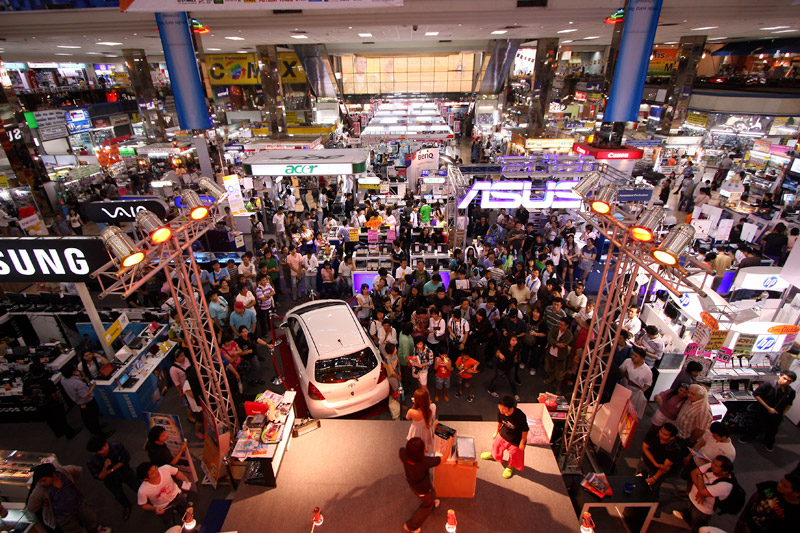 Bangkok has some amazing shopping! You just have to look further than Khaosan Road.
Our best advice is to take a cab or the skytrain (Mo Chit Station) to Chatuchak weekend market. It one of the largest in the world with over 10 000 market stalls. I was there for the first time two months ago, and found so much I wanted to buy. But I didn't, because I didn't want to carry it around. Next time I went there was with Petter, and I didn't even get to the same area I was the first time. A bit frustrating. A good tip is to get one the free maps at the info center. Anyway, at Chatuchak you can find everything you want. They got everything from brand new sneakers to second hand American football jackets, dog shoes and IKEA porcelain. They're only open on Saturdays and Sundays, since it a weekend market (dah?), and it easy to spend one or even two days there..
I thought that Khaosan road was hectic but that is nothing compared to Chinatown. Oh Buddha,
be prepared for stress, and if you can stand it you will find the best beads in the world ( and ten times cheaper than swedish Panduro). They also got almost everything they sell everywhere else. Like jewelry, make up, clothes and toys. It's wholesale and if you buy a lot you can get a super sweet price!
Then we have more famous Pantip Plaza. They got all electronic you can dream of. Petter got lost in camera land for hooours.. I found some computer accessories to my little sister and some really cool earphones. It's really close to the Sky Bar. And if I weren't so exhausted from all the shopping we would definitely take a drink on the 64th floor.
Petter spend a day at a market on a island in a big river (puh) and he found some really nice stuff. Handcrafts, clothes that was made in Thailand and jewelery that was much cheaper than at Chatuchak. It's just one problem, he doesn't remember the name.. We'll ask our friend Thewa and get back to you guys asap.
Then off course MBK, the shopping center everyone is talking about. I had fever when we were there and we was a bit stress too. All I know is that it's very big and according to Petter who has been there before they got almost everything, but it's expensive. Or as expensive it can be in Thailand.
And I almost forgot! Petter bought a suit, 4 shirts and a pair of trousers. Everything tailor made in good quality cheap, cheap! Or at least cheap compared to Europe. Some of the tailors stands on the street trying to speak swedish to you grabbing your shoulders and are such a pain in the ass that you really don't want to buy anything from them. Find a nice store with a relaxed but ambitious tailor. We found one at our hotel, Star Dome Inn, that we can recommend!
Enjoy! And don't forget to bargain!