You know that woman you aspire to be? The woman that says "go for it" and means it. The woman that not only dreams the dream, but sees it through. Without giving away too much, that's Donna. She's a light that brightens every room she walks into, so it's no wonder she's behind a mecca of wellness at her yoga studio, The Yoga Vine, located down under in Perth, Australia. A second-timer at Sunshinestories, we were so happy to welcome her back. We sat down over coffee to chat about life, yoga, and the key to success (or rather, the key to happiness). She's a health nut and something like a cacao nib; honest, raw, but rich in life – get a taste of her here: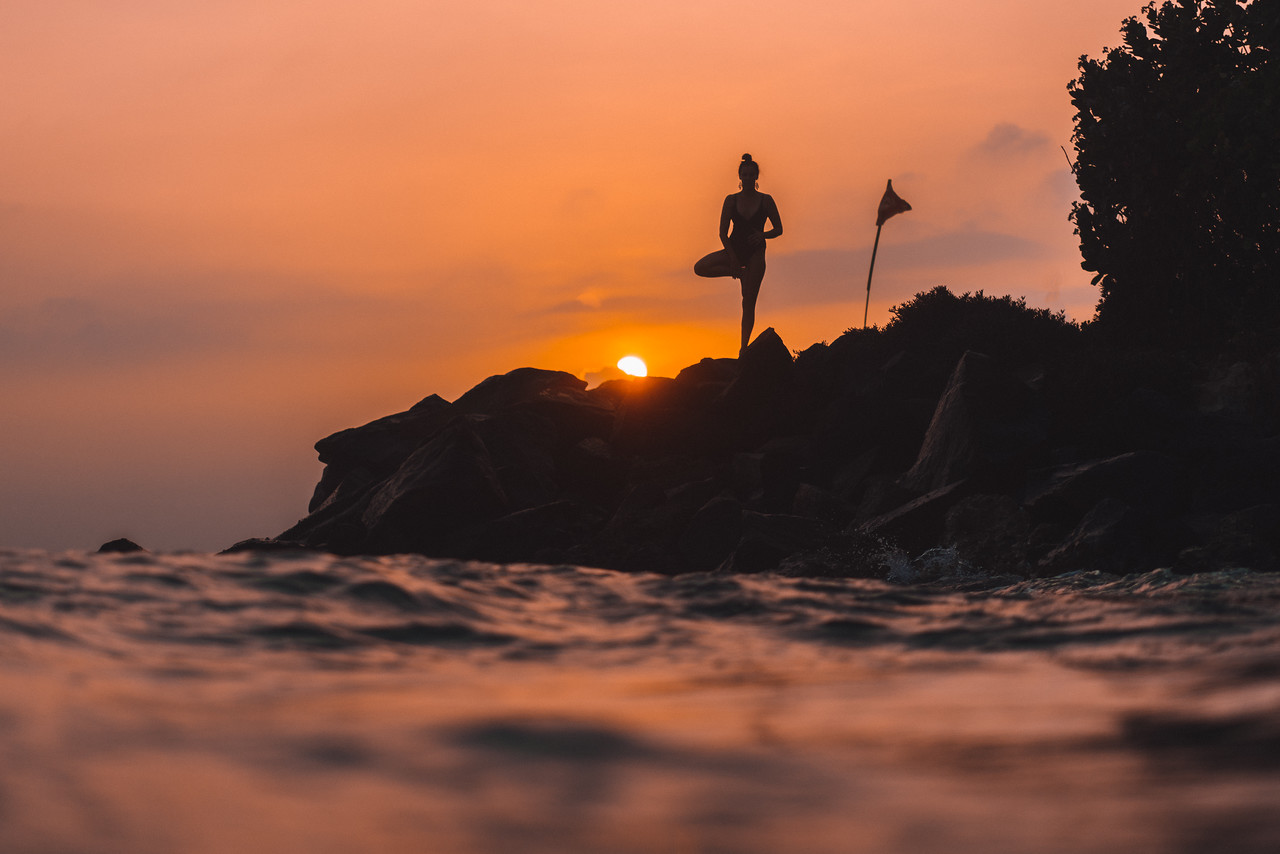 Tell me a little about yourself and The Yoga Vine!
I've been practicing yoga for roughly 20 years. I got my first taste at a small little yoga studio when I was living in Sydney. I had been working at a modeling agency, and saw yoga somewhat as this "fashionable" thing to do. This flirtation with yoga went in and out of my life, but it wasn't until I returned to my hometown Perth several years later that I started practicing regularly. I realized that I had a bad back, and my body hurt all the time. I was young and didn't think I should be feeling like that.  I underwent my teacher training at an ashtanga studio where I practiced. The teacher was also a mother and an incredible woman that opened the doors to yoga practice. She really taught me about the mental aspect to yoga being just as, if not more important than the physical practice. Yoga became about the embodiment of wellness and looking after yourself in different ways. It was about loving yourself and being true and authentic.
I've been teaching yoga for about 8 years. There's somewhat of a fullness or wholeness to yoga that you come to realize how things start to fit into your life. It has a ripple effect into all parts of your life – not just the physical. You start practicing compassion, authenticity, and your vision changes to look inward rather than outward. You start to find the beauty in everything that you do.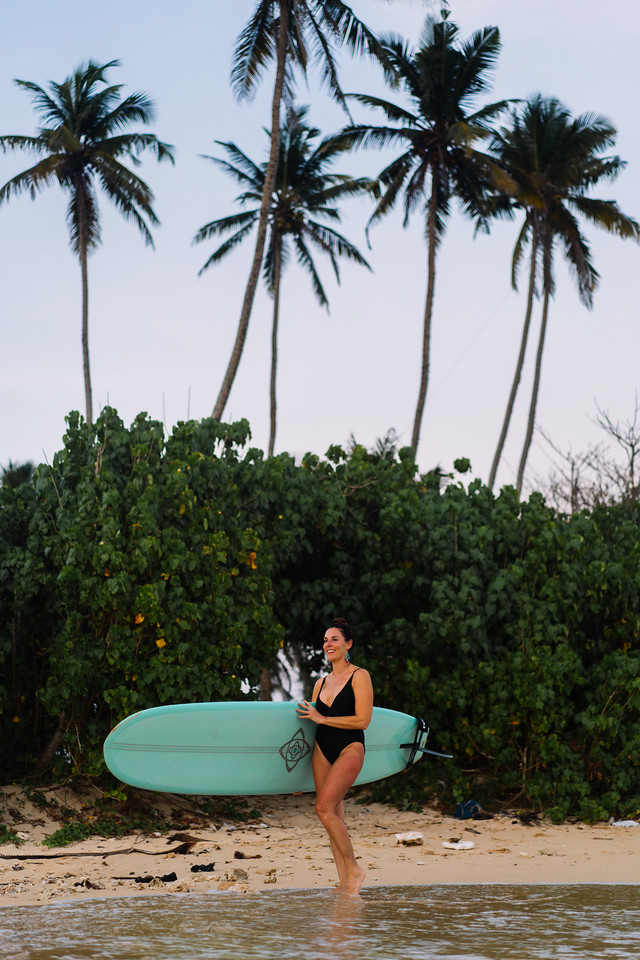 This is your second time back to Sunshinestories, why the return?
There's a feedback sheet you're given to fill out with any recommendations for the retreat at the end of your stay and one of the questions was – was your experience here life changing? After thinking about it, it truly was. The first time I went, it was the retreat's third time welcoming guests. From the people to the surfing to the yoga, it was all amazing. There was a true community – we even built a Facebook group and have stayed in touch since then. Everything that I do is based on feeling and my experience at Sunshinestories gave me goosebumps, so I knew I needed to do it again.
Coming back a second time I got to do yoga with Arles, who was the yoga teacher I had the first time I came. It's incredible how much surfing and yoga go hand in hand. The ocean can be just as unforgiving as yoga sometimes. We all have thresholds that can be tested and moved, and it can surprise you when you're actually doing it. It was a no brainer for me to come back to Sunshinestories when I was returning to Sri Lanka. Sri Lanka has given me a sense of home, and the retreat is a space that embodies that feeling.
What made you start the Yoga Vine?
The idea of The Yoga Vine came about when my business partner, Kate Taylor, and I started to look at doing yoga in our city and found there was a need not being met. Many people were doing "corporate yoga", where they'd set up a small class in their boardrooms. But there wasn't a proper studio in the area. We came up with the idea of doing pop-up yoga in an area where these people in their offices could take time out before, during, or after work to come and practice yoga. It got so busy that we decided to open our own permanent studio in the business district of Perth and we've been there for three years since then.
As a society, we're disconnected from ourselves and other people. We noticed this disconnection in the city – people don't make time for themselves or their family. Your fill your life up with all this stuff and we become so busy we can't connect back to our selves. Yoga helps you find those spaces in between, and realize how beautiful those spaces are. It helps you to say yes to the things that make you feel good and cut out the things that disconnect you. Yoga connects me back to me.
The name, The Yoga Vine came about when we started to think about all the things that come from vines. It's a little hub of wellness that other branches can go from – a retreat, teacher trainings, and workshops. A new project growing from The Yoga Vine is an initiative called SEED 2018, which stands for Support, Educate, Empower, and Dream. Seed is a collaborative project founded by Sky Boucaut. In South Africa, alarming statistics show there are 2000 new cases of HIV every week in women under 25 years. SEED strives to educate, empower and ultimately show women their value by teaching skills to help make better choices. The yoga Vine has been asked to set up their wellness program in the SEED camps, teaching them yoga, education them in Heath and wellness. Kate and one of our Teacher Trainees will go each year to implement the training and education and offer support to these young women.  It's this type of service, born out of our love for yoga, that has me most humbled and proud of our business. The fact that we can send one of our trainees to learn and be a part of something like this is so special too.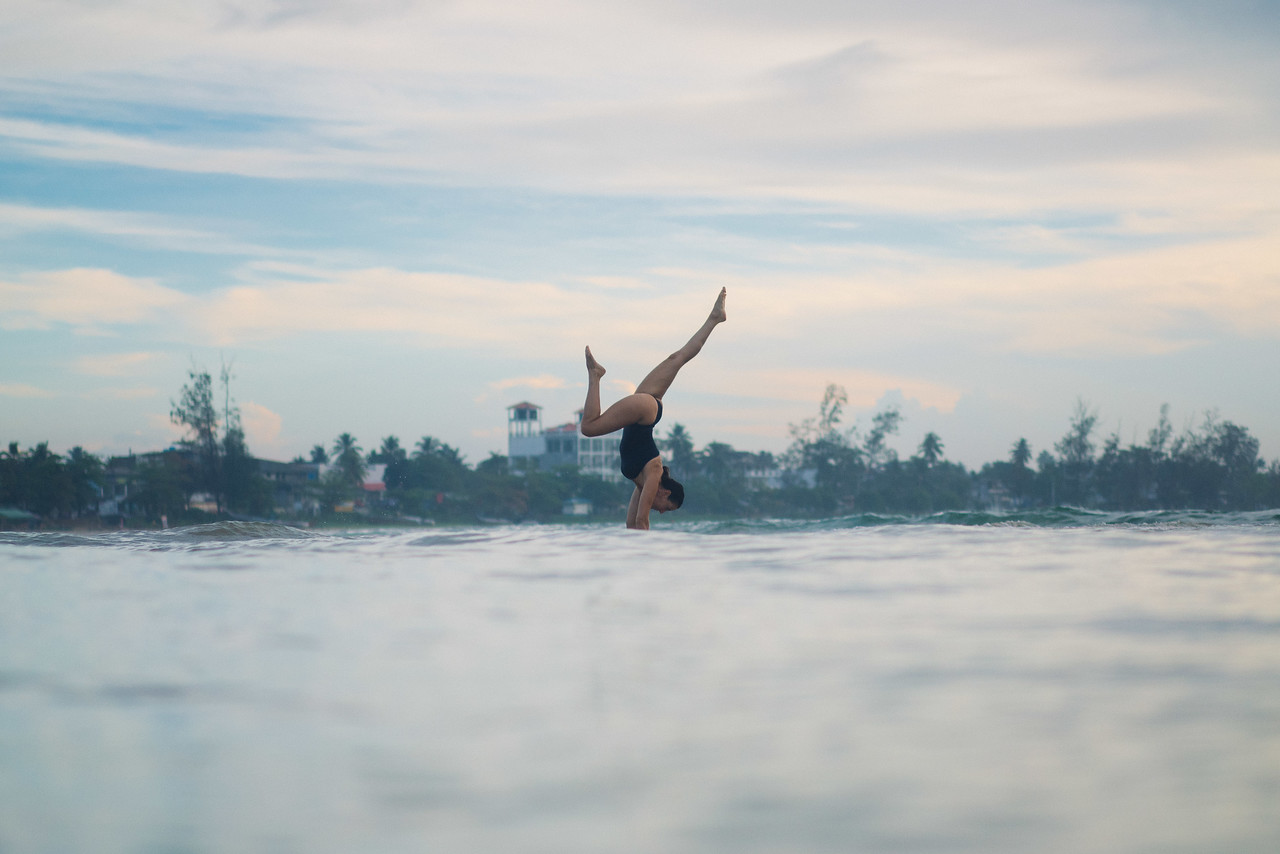 What role do you hope to play in society?
We want to be able to show people the vastness of themselves. You can never stop working on yourself. Life throws stuff at you all the time, but your reaction to it is where the yoga lies. My favorite pose to teach students is crow pose. You experience fear – you don't want to take your feet off the ground. But you breathe, you get confident, you get one foot, then the other, and you find that moment in the stimuli where you feel completely free. That's clarity, that's your breath, that's the now – we want more of those moments in life. Yoga is just a mean to help you find it. There is a vastness to every breath if you just allow yourself to focus.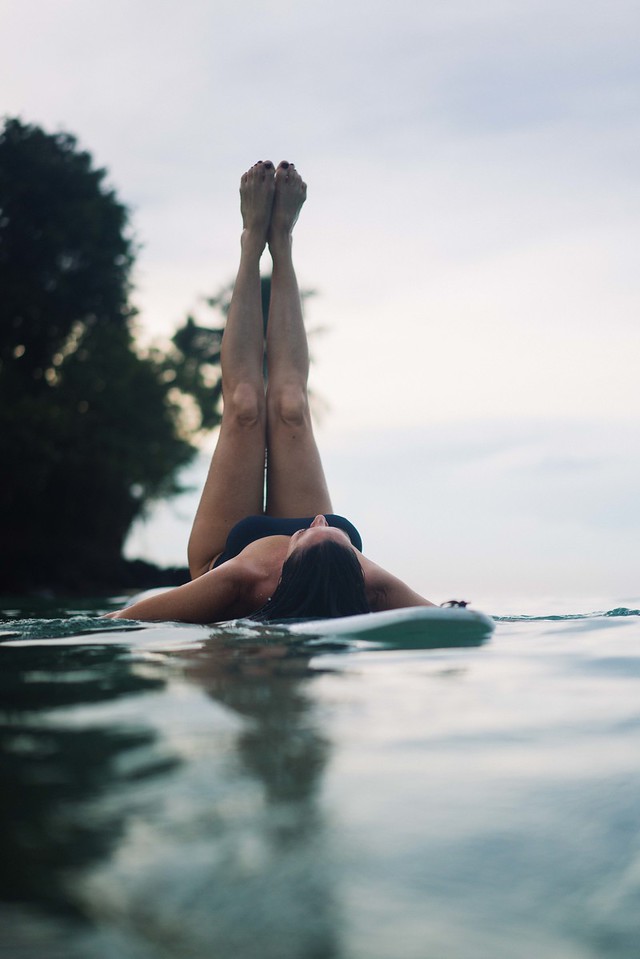 What would you say the key to your success has been?
I think happiness is the key. It's about surrounding yourself by people that bring out the best in you – the people that can open your eyes to things that you haven't thought of, or give you the confidence to go and do them. Kate has been an amazing sense of support for me and I'm always inspired by her.
As far as success with The Yoga Vine, what we've tried to do is keep it very accessible. Whatever level your at, however bendy you are, or wherever you are in life, yoga should be accessible to you. Our community in the city has people always sitting at their desk, sitting at home, but we give classes during lunch time to allow people to get out of their heads and into their body. We're also lucky to have a really great staff and the teachers we have come out of our training.
The Yoga Vine is that hub of wellness, and with that comes all aspects of health including knowledge in the anatomy of the body, physio-based exercises and ayurvedic training. We are collaborating with other health professionals as well to bring some of that outside knowledge into the realm of yoga. A physiotherapist we work a lot with is Dave Dawes of Subiaco Physiotherapy. He does anatomy training with clients and students, which then helps us focus on a particular shoulder injury, for example, with a student. It's turning the physical aspect the other way around and allowing a broader sense of wellness to be encompassed.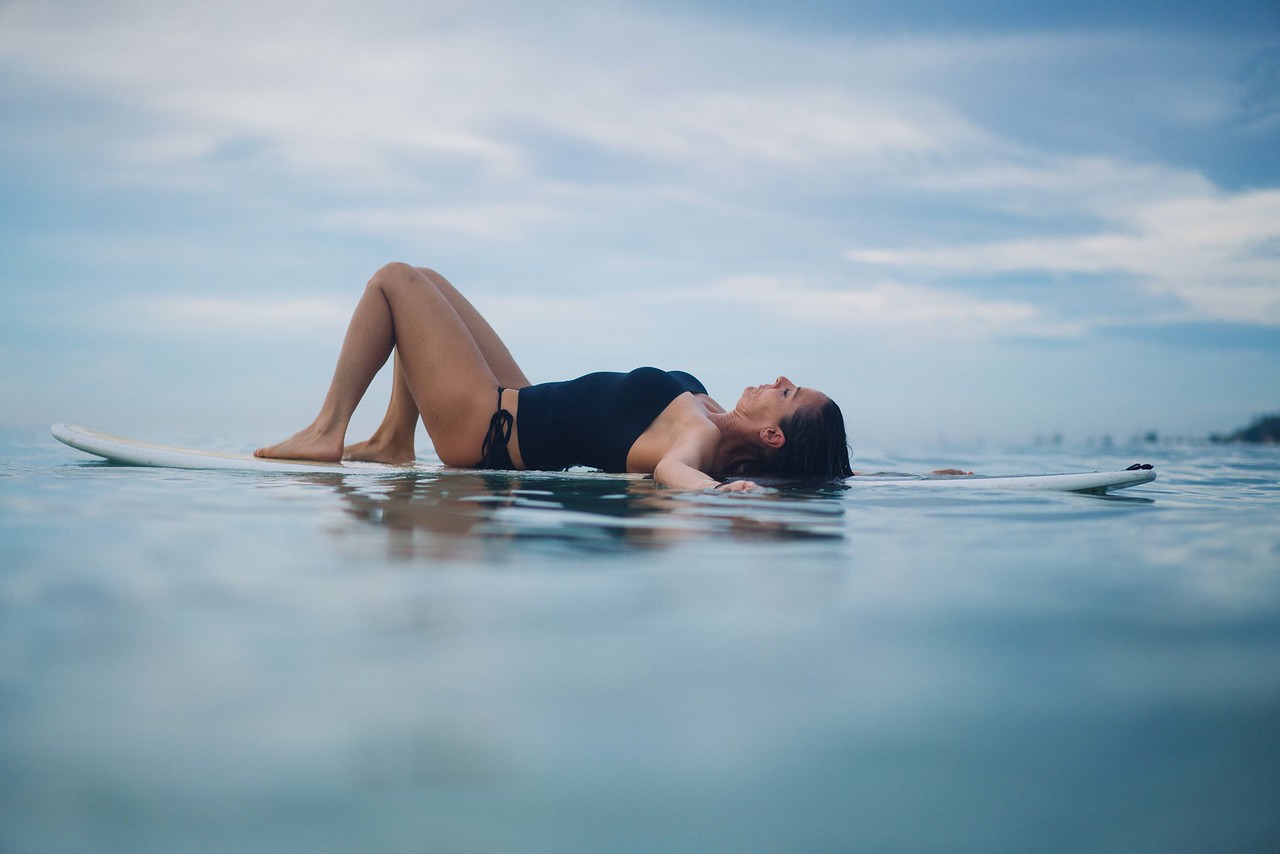 Words by Molly Henze
Photos by Lachlan Dempsey