Meet our resident yogi Lally Molina. Lally left the high pace fashion industry in London to travel around East Asia, become a nomad and follow her passion for wellness and yoga, she is currently living a slower life in the tropics and sharing her passion in our  jungle shala at the retreat.
Having completed a (350 hrs) FTT in Fitness and a (200hrs) YTT in Yoga Therapy, she teaches Vinyasa, Restorative, Yoga for Surfers and 1 to 1 Yoga Therapy. She uses yoga as a therapeutic tool to treat injuries and illness. As the Sunshinestories Retreat Yoga Teacher, not only does she teach the daily sunrise Vinyasa and sunset Yin yoga class, but also offers a variety of massages and treatments.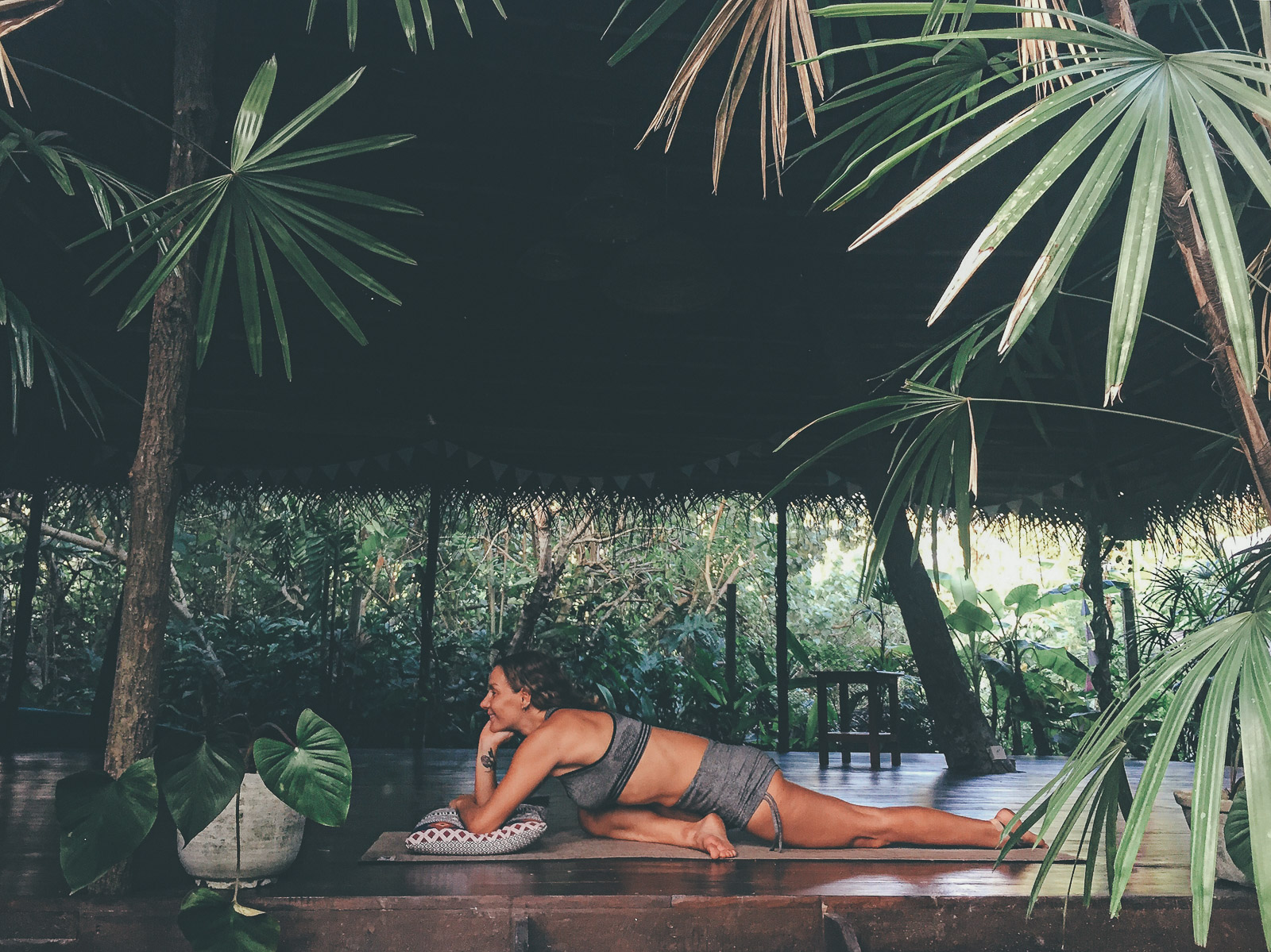 Lally is fascinated with the body & mind connection and likes to bring Eastern and Western techniques together in her teaching. Lally is also trained in traditional Ayurveda Massage and Crystal Healing, has a great interest in meditation and mindfulness and loves guiding Yoga Nidra sessions.
On the treatment menu here at Sunshinestories you can find everything from a classic surfers massage, to "Abhyanga" Ayurveda full body massage, to crystal healing therapy. Her signature therapy is the "Body, Mind & Soul Therapy" a combination of a therapeutic and relaxing inspired Ayurveda massage with crystal healing therapy.
I was really curious about this particular therapy and combination so Lally invited me for a 90 minute session in the shala.
Lally started the session by asking me some questions about my overall health, if I had any injuries or pain anywhere in the body or any chronic illness. She also asked what I wished to get out of the session, reduce stress and anxiety, to heal an injury,  improve sleep, or to obtain emotional and/or spiritual support? I said yes please to it all!
I didn't really know what to wear for the session but I had put on a kimono over my normal underwear and that was fine. Lally said you can also wear your bikini or board-shorts if you like.
She started with over an hour of full body massage inspired by Ayurveda principles, a lot of oil, big strokes and circular motions. The pressure was alternately soft to medium and then deeper on the areas where Lally could feel there was muscle tension and more pressure was needed. The massage finished off with a calming facial and relaxing head massage. Mm, it was so good. And I know what I'm talking about because I've had a lot of different massages over the years!
When this happened I was deeply relaxed but I'll try and recall it properly. Lally placed crystals all around my body and in the corresponding chakras, apparently every crystal has its particular healing property. I could feel her putting one between my feet, then between my chest on my heart chakra, I believe it was a Rose Quartz, then one on my throat chakra, here she placed a raw Moonstone, and finally she placed an Amethyst in between my eyebrows, on my 3rd eye, apparently Amethyst is a calming stone that also stimulates intuition, clarity, spirituality and wisdom. She then put on a gong sound meditation and left me lying for I'm not sure how long.
I think I lost track of time. I laid half awake and listened to the gong meditation and  the different sounds coming from the jungle. The shala was a perfect set up and a unique place to get a massage. Then I could feel that Lally was back, she slowly removed the crystals. She said the moonstone on my throat had left a mark, and mentioned that she thought I connected very well with this stone and that I should try to meditate with it. I sat up and had some water. We talked about how I felt. I felt relaxed and energized at the same time that I felt quite tired. Lally also said she could feel I had a lot of water retention on my legs and recommended both some teas and exercises to eliminate the water excess. I went straight home to drink some teas and to put on a moonstone necklace.
The day after I felt quite sore but my energy levels were higher than usual! Thank you Lally for an amazing treatment and experience! I will book another one as soon as possible. And you can do that too if you're staying at Sunshinestories. Lally will be with us this whole summer, we have space on our retreats in May & June. Book your surf & yoga retreat here. Read more about Lally here and make sure to follow her on instagram.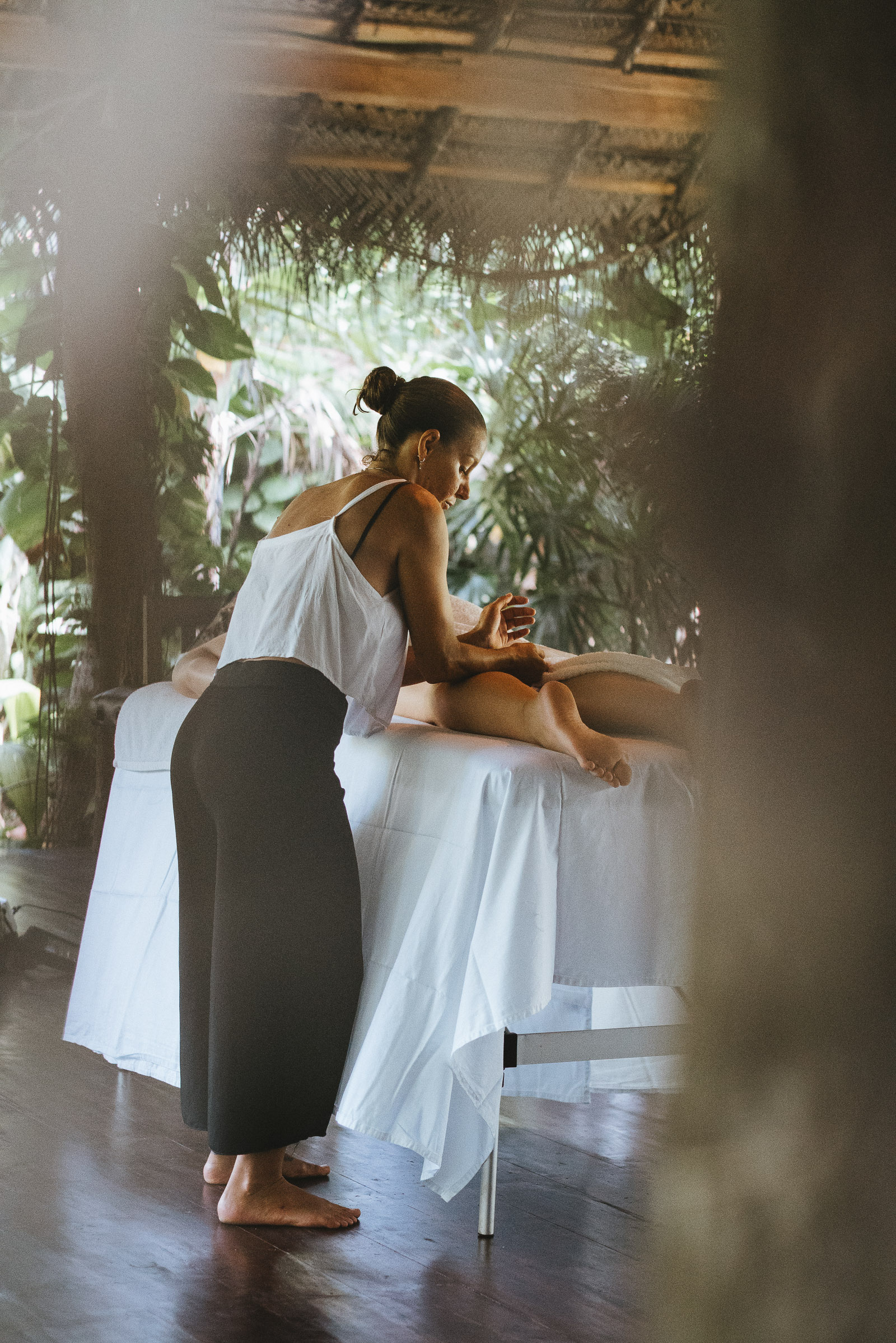 Words by Linn & photos by Lachland Dempsey