Featured words from Marley, our visiting yogi at Sunshinestories on how having a yoga retreat at a surf camp in Sri Lanka make for a perfect combination:
Yoga Retreat and Surf Camp in Sri Lanka
Sri Lanka has stolen my heart in more ways than I thought possible. I knew I wanted to come here to further my yoga teaching, what I didn't know was the amazing journey I was about to experience.
The ocean has always been home for me. Growing up on the East coast of Australia just north of Byron Bay I have been blessed with a life full of sunshine, backyard BBQs and clear blue water at my doorstep.
When I tell people that I have only been surfing for 4 months, they think I'm crazy! "You're from Australia and you've never surfed" was the reaction I would get over and over again. Yes – maybe I was crazy but I truly believe I have found surfing at the perfect time in my life. I'm now able to apply all that I have learned from my yoga practice into my surfing. I deeply believe the art of yoga and surfing were made for each other.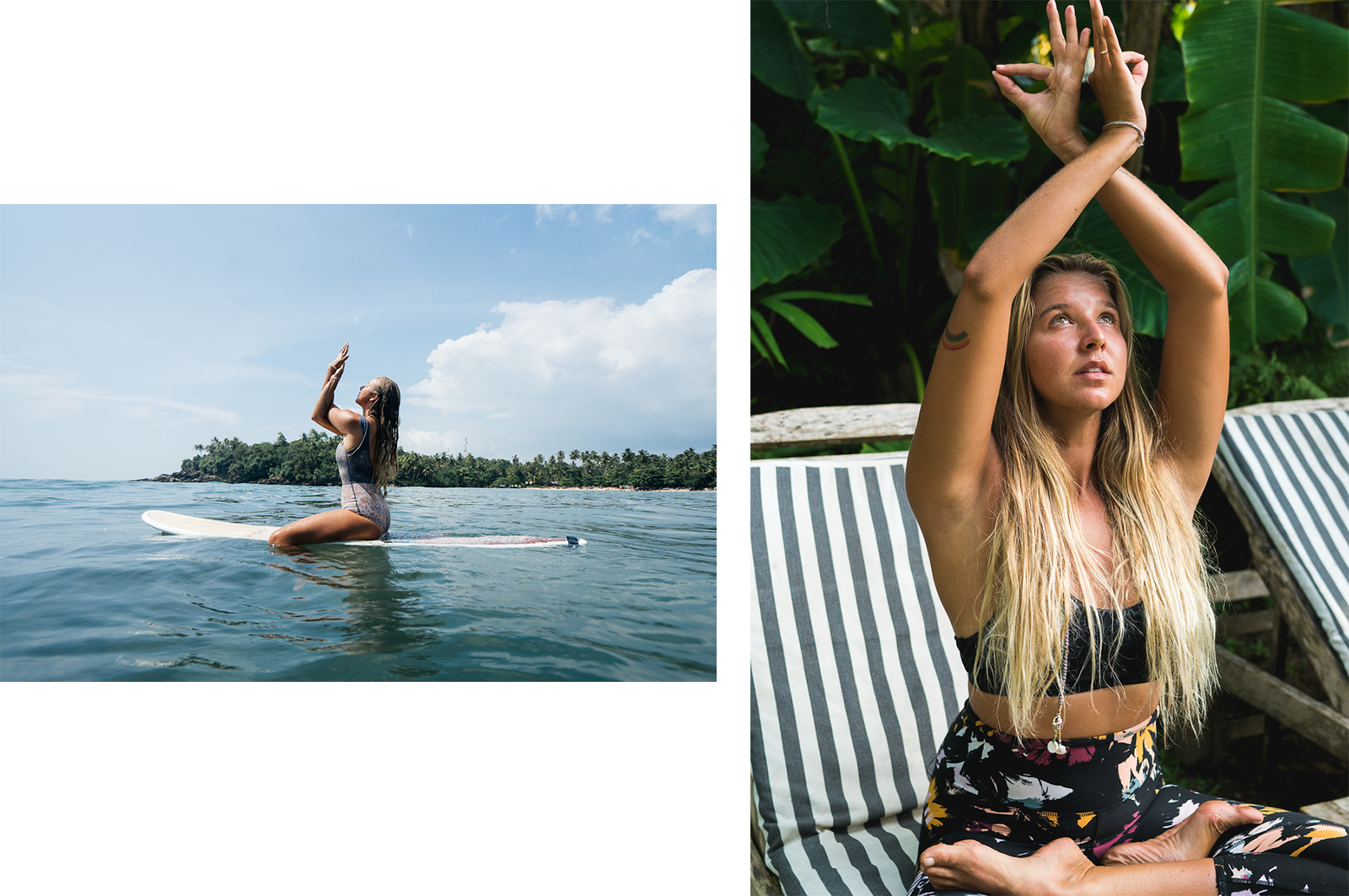 Sunshinestories Yoga Retreat
Since being here at Sunshinestories I have learned so much about the ocean – how to read it, how to ride it and how to understand the ebb and flow and the constant change. Each day I rise with the sun and guide the guests through an energising yoga practice to tune into our bodies and clear our minds. Then we head to the ocean and put it all to practice.
Most people are unaware of our direct body-mind connection. Each and every thought affects your physical body and the way it performs. We underestimate the power of our mind and we forget the strength that we can draw from our breath.
Yoga is a practice of the mind, body and breath. It is a union to purify the body – giving you awareness and control over your internal state. Though many people think of yoga only as a physical exercise while moving through the postures, this is only a small part of the profound science of yoga. When we dive deeper we start to unlock our true potential!
The breath is like the waves of our ocean, it flows in and out. We can use our breath to bring strength into our body; we can use our breath to release negative thoughts in our mind.
When surfing we need strength but we also need the body to be fluid, just like liquid, so we can ride the rhythm of the wave. We also need our mind to be calm and clear. If our thoughts become frantic or full of doubt our body will instantly follow.
Yoga helps to keep this balance of strength and fluidity in the body and clarity of the mind. It helps you to find your centre in times of challenge, helping to develop body awareness and a deep knowing of your personal kinesthetic sense, your very own muscle memory! When we step off our mat and into the ocean we can apply this knowledge and surfing becomes a moving meditation.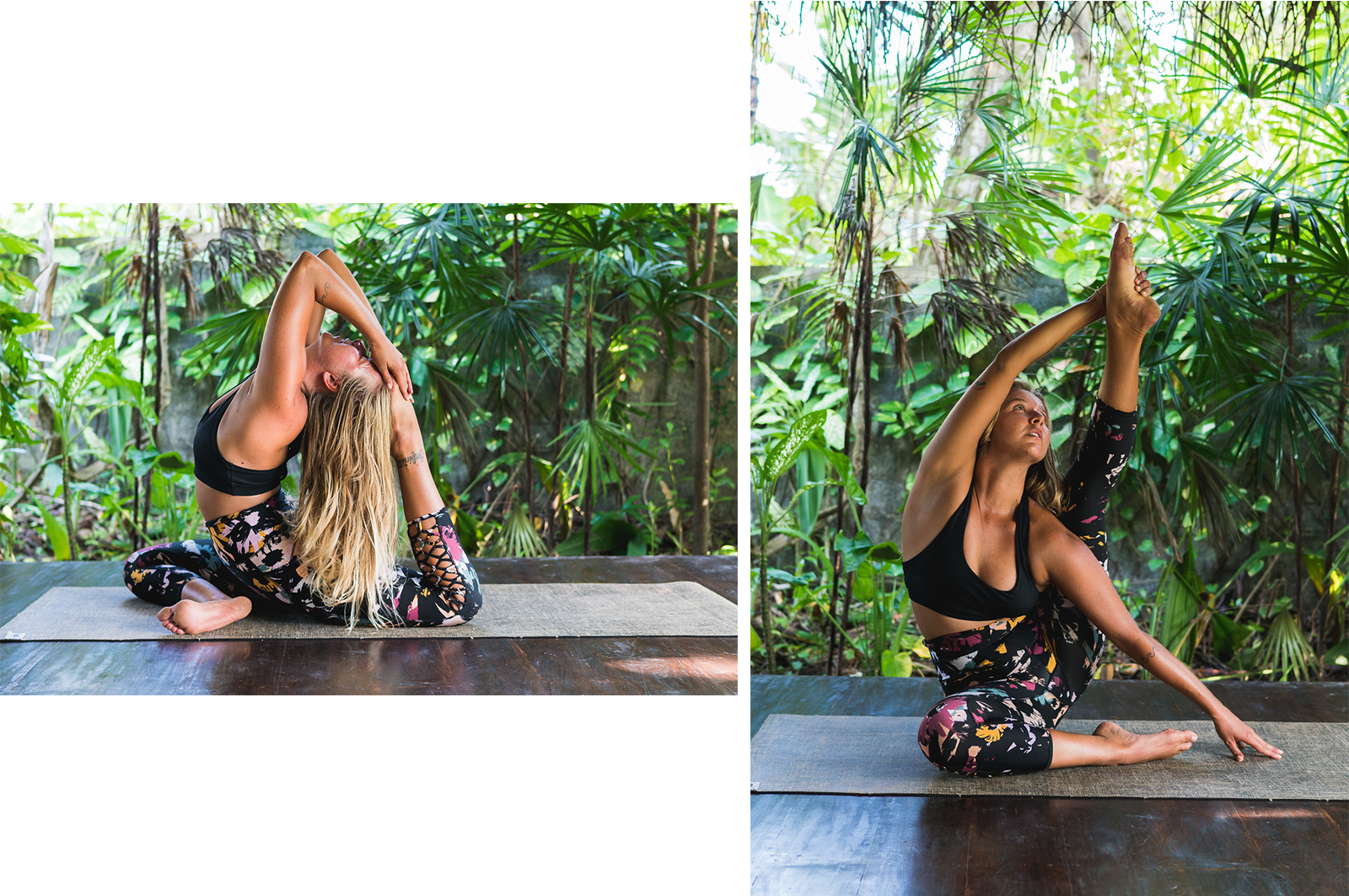 The Surf Camp Experience
Over the past two months here at Sunshinestories my surfing has improved more than I ever thought possible. With a dedicated team of surf coaches along with daily theory lessons I'm surrounded by constant learning, support and encouragement.
The more I surf the more I learn about myself – the more I learn about life. I use to dislike surfing. I never understood why people wanted to get smashed and tumbled around in the ocean continuing to "paddle, paddle, paddle!". I use to give up, get frustrated and constantly repeat over and over "I just can't surf".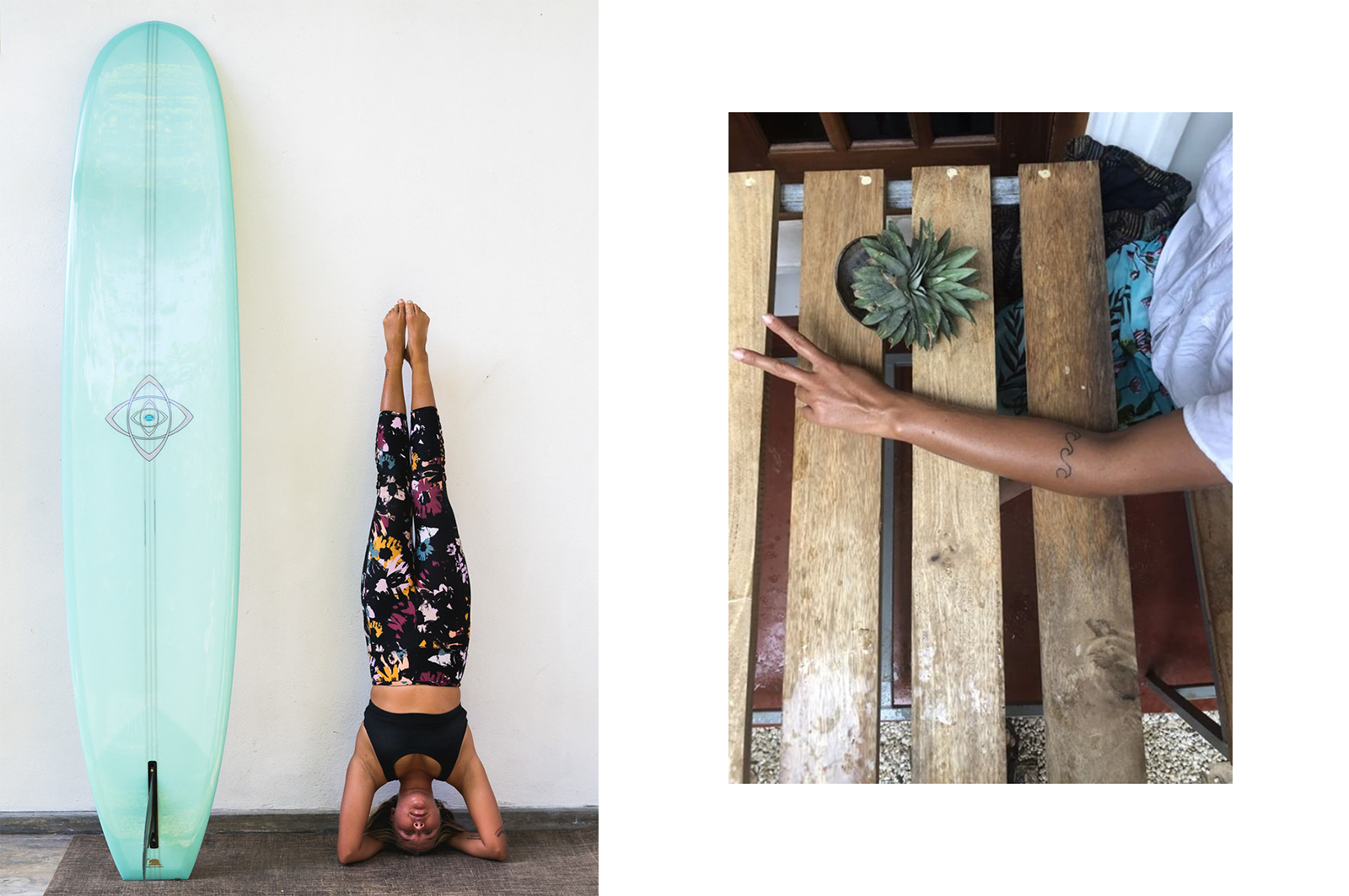 Now using all that I have learned through my own yoga practice, everything is different. All of the reasons why I didn't surf are the reasons why I surf now. I surf to overcome my self-doubt and I surf to face my fears. My body feels strong and my mind even stronger. After weeks of paddling, trying, falling and nose-diving I have found my rhythm – I have found my surfing flow.
Of course, I still have epic wipeouts but I have learned to love my wipeouts. I choose to learn from them. Instead of telling myself "I can't surf", I sit on my board, place my hands on the ocean and breath deeply. I say to myself, "I can surf, I release all self-doubt" and guess what… IT WORKS!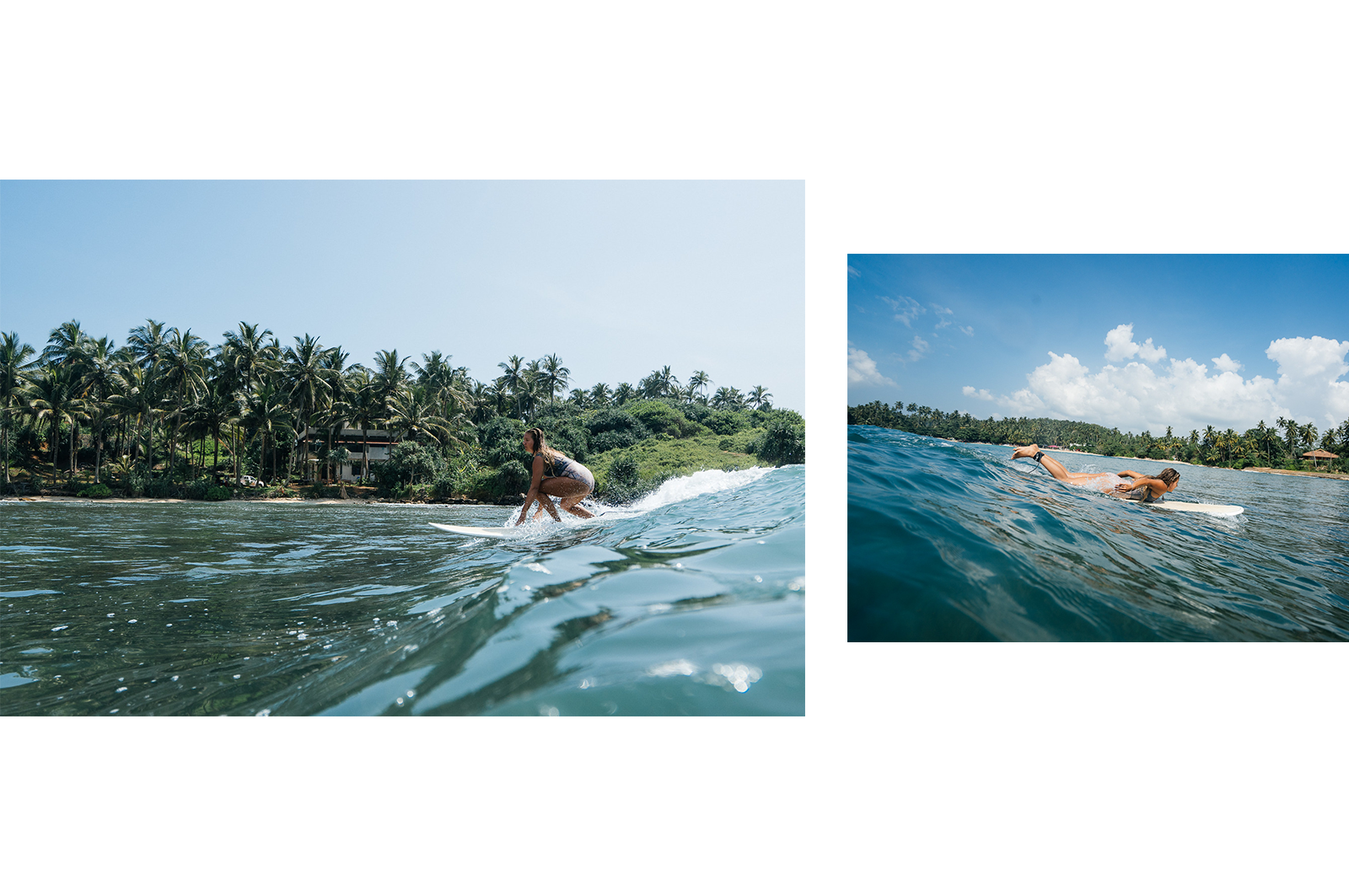 It has been a dream come true working and stay at Sunshinestories, sharing my love and passion for yoga every day – connecting with each guest on a personal level through their practice and their unique bodies. I've watched them progress throughout the week, building strength and awareness and at the same time opening them in ways they didn't expect.
I have such a deep gratitude for the art of both surfing and yoga. They have helped me become strong physically, mentally, emotionally and spiritually. They've helped me create a deep connection of my mind and body. And I have witnessed this connection in so many others I've met along the way.
I am in a constant state of growth. Each and every moment I am learning something new or practicing something familiar. I can no longer imagine a life without surfing or yoga. The ocean is my home! I am a teacher and forever a student…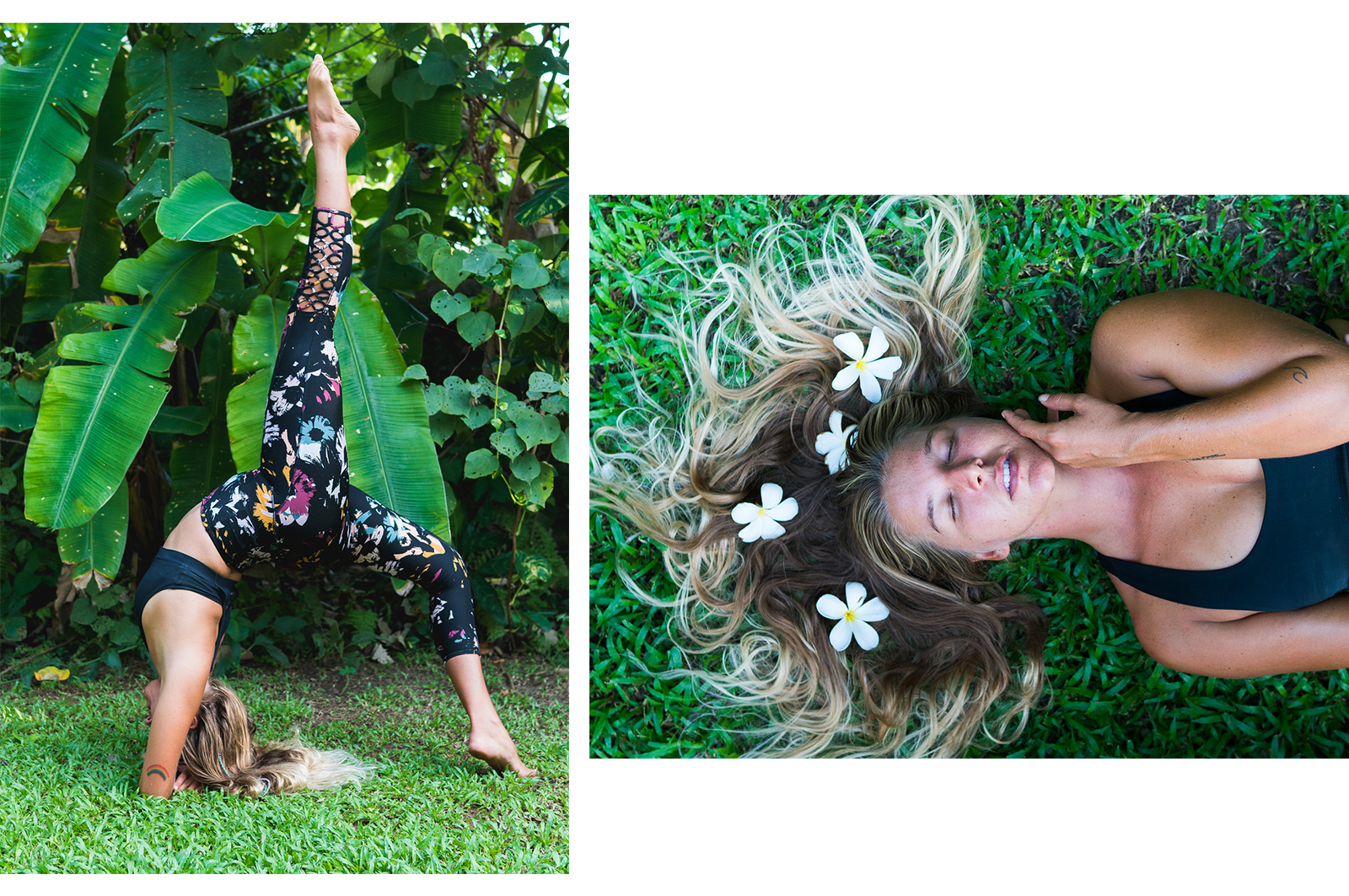 Photos by Jake Kin (@jkinphotos)