Say what you want about these days.. Mother's Day, Father's Day, Cinnamon bun Day (is it only in Sweden?), Waffle Day etc etc. but International Women's Day stands for something more than just encouraging one to buy more things. I choose to see it as a day to reflect over the gender equality in my own life, community and our world as whole..
When I was a kid I was so embarrassed when my mum and her friends sang battle songs with their one arm in the sky and showing off their nonshaved armpits every 8 of March, and any other day they got the chance. I didn't understand all the work my mum and her friends and all our ancestors, both women and men, put into, and still put into, making this world an equal place with equal respect, salary etc.
I'm so grateful to them. And I reflected about the surfing world who is quite.. not so equal honestly when it comes to ads, price money, competitions, sponsors and salary.. I got into surfing when I was 14 after being at a surf school on Fuerteventura. Back then, 2004, the view you got of female surfers through the few glimpses of the surf culture that reached this distant country was Reef girls (string bikinis and a line of perfect asses), girls posing with a surfboard, girls looking at guys who rips. (Maybe I saw a mini picture of someone named Keala Kennelly sometime, but never more). In the beginning I thought that was what I should do. Pose with a board, swank with my ass, spend my time not surfing but taking pictures of surf guys.
And honestly those pictures must have sat deep impressions on me. Petter managed to get some awesome shots of me cross stepping on our last trip and as any surfer I got super stoked when I managed to get hold of some pics of me surfing. Still I thought of not publishing them cause didn't my tummy look a bit fat? I've never seen a Roxy, Billabong, yadayada ad with a tummy. They always have perfect six packs.
When Petter and I met he didn't surf. In fact me and my little sis gave him his first "surf lesson". Look at us now. He passed me years ago. Why? That's a very interesting thought.. He never doubted he could learn to surf, he was out in the lineup not worrying about what the others would say, he was out even though it was too big for him and he learned from that. And where was I? I was "naah, I think it's too big, it's too many people, it's…" He always knew I could but I never believed in my self.
It might have to do with that we're different persons, not our gender. Or maybe it has. I never had any female surf role models. All the Roxy ads were always just girls on the beach in bikini. Honestly, the first time I got introduced and got to actually surf with girls who ripped was two years ago when Margaret Calvani introduced me to a whole group of female surfers on a trip in Mexico. They were all American and came from California and Hawaii where women have been a part of the surf culture for a long time. One of them was Linda Benson and I learned she was the first woman to surf Waimea Bay 1959, another was Kristy Murphy who won the world longboard title 2005., then there was Heather Hudson the filmmaker behind "Women and the waves".  I can keep on lining up all the wonderful women I got to share lineup and thoughts with on that trip. It was the first lineup I was in that we were more women than men. Not that anyone reflected over it. But I've never been in a line up where there was so much joy. Those sessions gave me so much. I grew as I female, I grew as a surfer. I found out that my place doesn't have to be on the beach.  When Linda got a wave she rode with such style everyone screamed and cheered. When I got a really nice wave everybody woho-ed me, when Petter got a wave every one woho-ed him as we did when Corky Carroll  got a sweet ride. Those sessions gave me so much. I grew as a person, I grew as a surfer.
It is not about us and them, or that one is better than the other. It's about all of us to be involved with the same "game rules".That we will all get to have the same chance to support us on a sport, to compete in what we love and have decent ads. Because infront of the waves we are all equal.
A few days ago I read my friend (we haven't had the possibility to spend so much time together but I quote her: "we have been friends for many lifetimes, we just haven't really spent much time together in this one") Cailin Callahans blog Nose walking and trash talking I got tears in my eyes and a smile on my lips of admiration, respect and inspiration:
"Last year I only surfed Lazy Left and Plantations because everyone told me that I couldn't surf Rams with a longboard…that Rams was too scary, too shallow, too fast and too full power for anything other than a short board. Well, I'm glad that this year I decided that I didn't want to listen to the fears of others, and to explore on my own. Because now I surf Rams twice a day. And without sounding too cocky, I own it on a longboard. I can hear my Dad hooting and hollering me into every fast, steep wave that breaks over the shallow reef. I can feel him beaming from ear to ear when I get covered up and when I hang my toes over the nose. The first few times I was out there I was given warnings and skeptic bits of advice to "be careful", by the boys. That was until they saw me catch a wave. And then they bit their tongues. Lazy Left and Plantations are fun, but they're easy. And you can't grow in your comfort zone. I love the adrenaline that this spot offers up, and the skill that it makes me tap into to surf it. I have been having a blast there, and I appreciate the respect that's been given my way. The guys in the line up have been very vocal about how much they enjoy having me out there.."
Click here to read her full blogpost.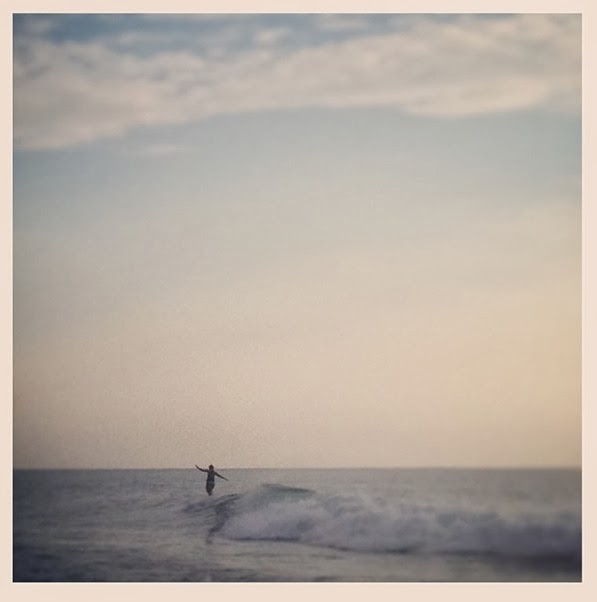 Cailin on a wave in Sri Lanka. Here's her blog.
Well, this blog post wasn't planned to happen. It just did. When I'm already on it I wanna wish that you all spend some time thinking about equality in your life. and I might not have had any female surf role models as a teen but now I have plenty! I'll share them + my favorite song "Taro" by Alt-J's album "An awesome wave" (perfect name huh?) below. A song named after another role model; Gerda Taro who was the first female photojournalist to cover the front lines of a war and die while doing so.

Here's some of my female surfing role models:
Margaret Calvani. When she said she started surfing at 21 she gave me hope. She rides both shortboards and longboards with such style and grace. Right now she's 7 months pregnant and still surfs.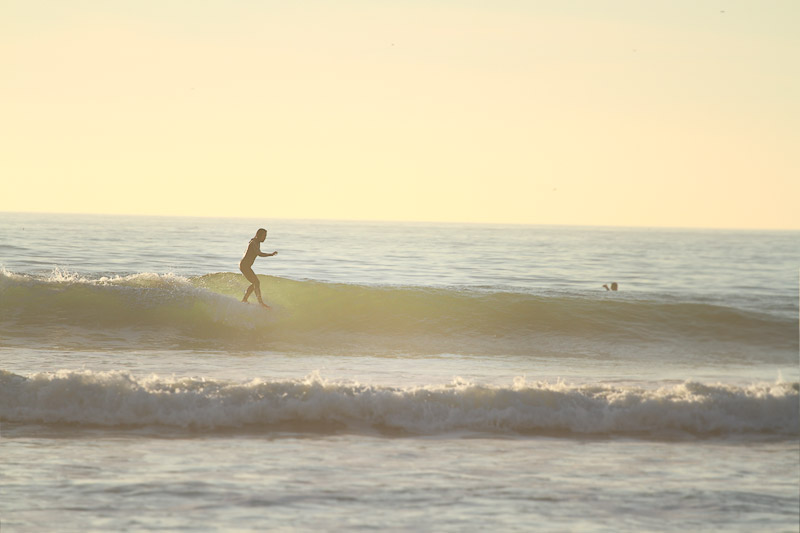 Taylor Nelson is a Californian girl living in Hawaii studying and surfing. Love to follow here and dream me away to warm waves on her instagram, click here.  Photos from her instagram.
Lauren L Hill. Amazing surfer who often talk/writes about females equality in surfing on her site The Seakin. Photos from her instagram.
Linda Benson who have surfed almost her whole life. She's been a pioneer in surfing and it's such an honor to have been surfing with her. Now she has her own business with a smart thing that makes us with short arms being able to carry wide logs, Rail Grabber. Check it out here.
Vera Nording is a Swedish girl that I've never have had the pleasure to meet in person. I follow her on instagram and get inspired by how she rips her longboard. Photos from her insta.
Kristy Murphy, longboard champion 2005. Now runs Siren surf adventures and teaches, actually mostly women, how to surf on various destinations, check out here. 
Mele Saili of Seea. Love her style. Photos from here.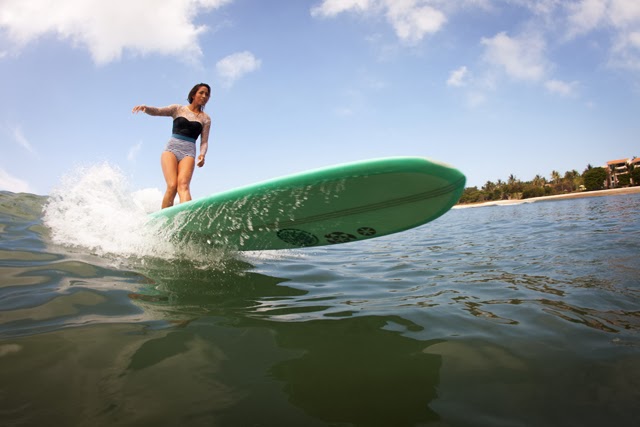 I think a lineup is best when it's both men, women, young, old, legends, kooks and dogs in it <3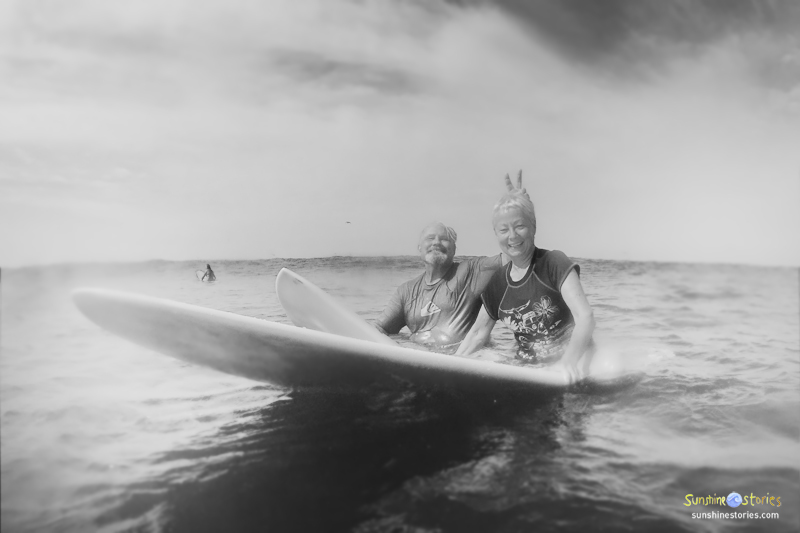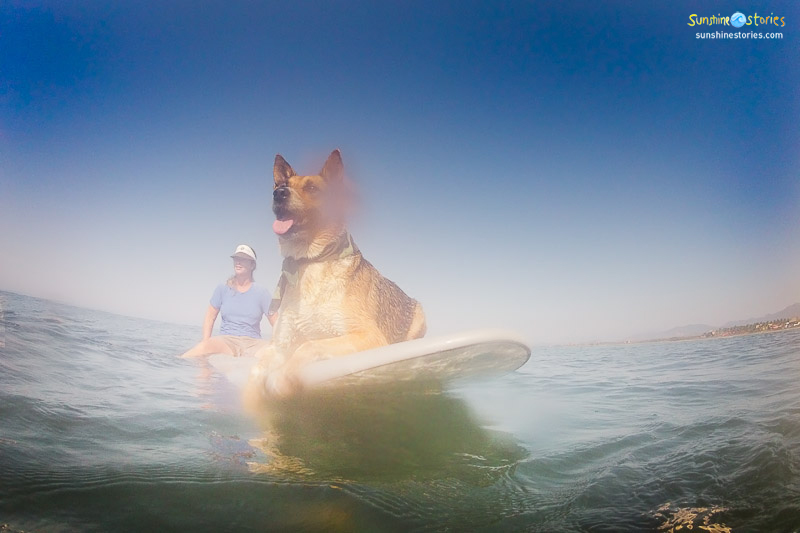 P.S. Ten years ago we weren't so many Swedish surfer girls now we have our own group on Facebook called Sörfaretjejer with 924 ripping ladies. A tip if you're a scandinavian and wanna talk spots, wetsuits, events or wanna discuss sexist ads in the sport world. D.S