Here's a short English note for you non Swedes, the rest comes in Swedish.
We live on a peninsula in south Sweden called Bjäre which is in many occasions mentioned as the Toscana of Sweden. Basically we have really nice locally produced food as well as really nice restaurants to enjoy eating it. Potatoes is what we are most famous for. Potatoes is like our holy water, we wait all year to pick the first fresh ones when the spring comes. This year my dad brought together every restaurant and farmer on Bjäre to plant a new potato that we would exclusively sell on location, on our restaurants. To celebrate and show how fortunate we are to have so much great food production here. We looked for a new clone of a potato that never has been planted here before. The Magda. We planted it together, picked it together and sold it together. Every one restaruant on the same time, same ingredients in different preparations in different restaurants. The potato turned out to chock both the farmers and the chefs.. And it's ours together! Amazing.
—
Min pappa har många idéer och drömmar, speciellt när det kommer till matupplevelser. Det senaste året har han tillsammans med övriga krögare här ute jobbat i Båstad Bjäre Gourmet, en ideel förening i form av ett leaderprojekt där vi tillsammans arbetar med bönder och odlare för att skapa matuplevelser det står Bjäre på. Ett av delprojekten är den där Magdan som pratar. Ingen på Bjäre har väl undgått intervjun i HD med potatisen som kan prata för sin egen sak?
Tanken är att behålla våra fina råvaror på Bjäre, och bjuda hit matälskarna att njuta på våra eminenta restauranger istället för att skicka iväg vår första potatis till Stockholm. Nej, potatisen är vår alldeles fantastisk och ska självklart ha premiär här. Istället för att gå in och röra i de sorter som fungerar så bra bestämde vi oss för att odla en helt ny potatis till projektet, böndernas och krögarnas alldeles egna potatis. Och oj oj oj vad den chockade många.. Så tidigt, så fast, och så stor.. Endast en vecka efter swiften som inte alls är lika god.
Den andra maj hände det, vi plockade upp Bjäres första Magda. Tillsammans alla kockar med händerna på en lerig, regnig åker.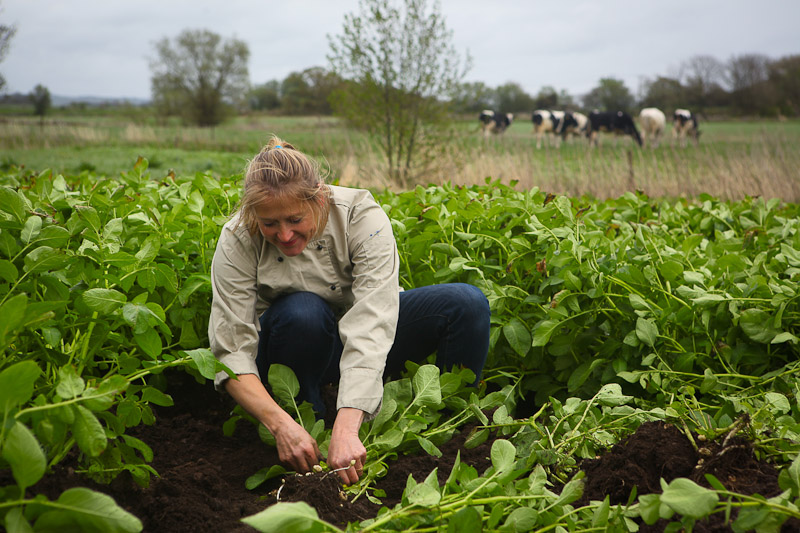 Vår första Magda.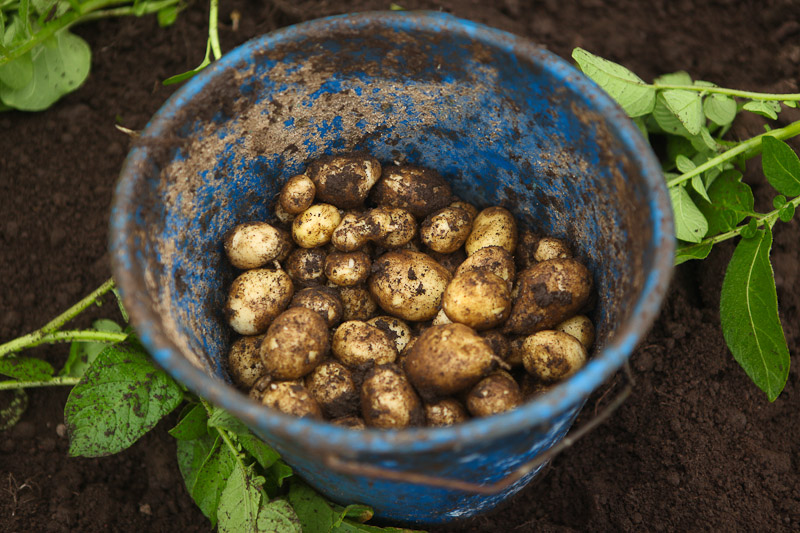 Kockarna fick gräva på riktigt med bara händerna.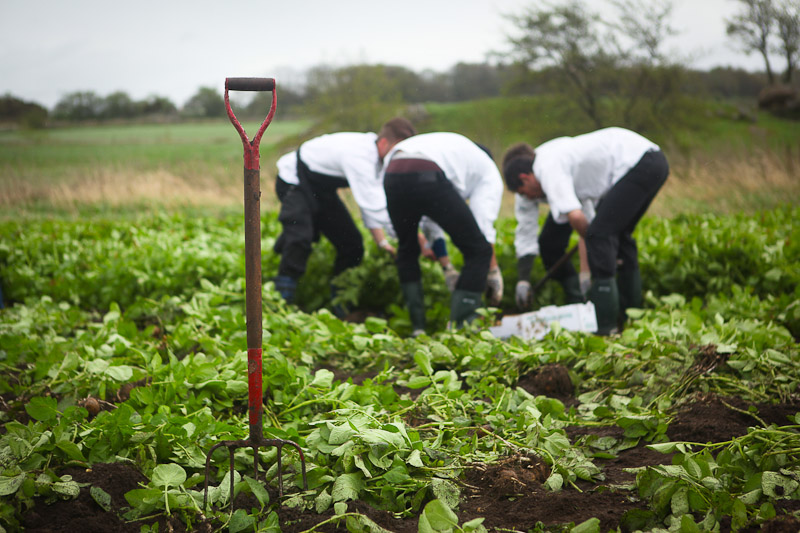 Vi hade märkt ut en planta, den riiktiga Magdan, den som kunde prata. Den har man kunnat följa från barn till pensionär live på webben via sin alldeles egna webbkamera.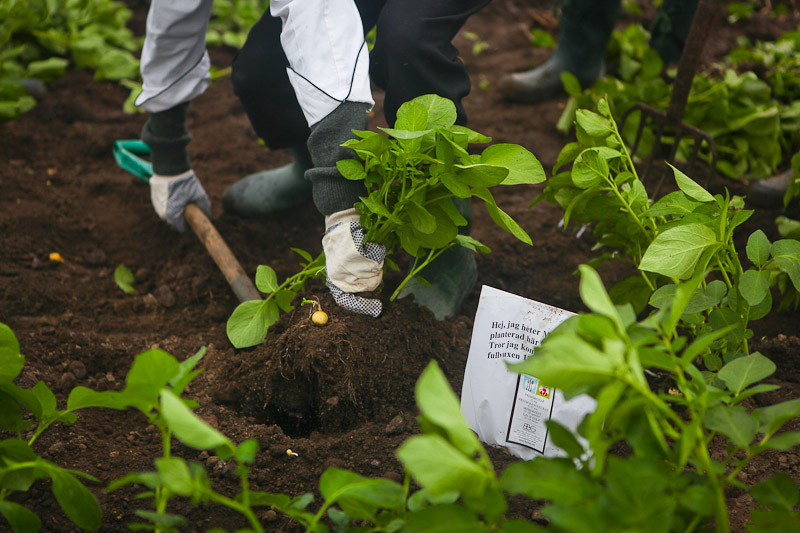 Magdan..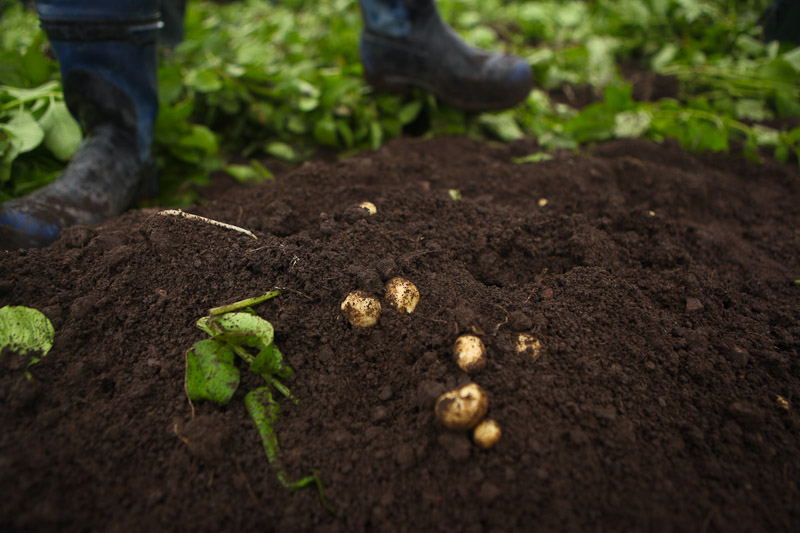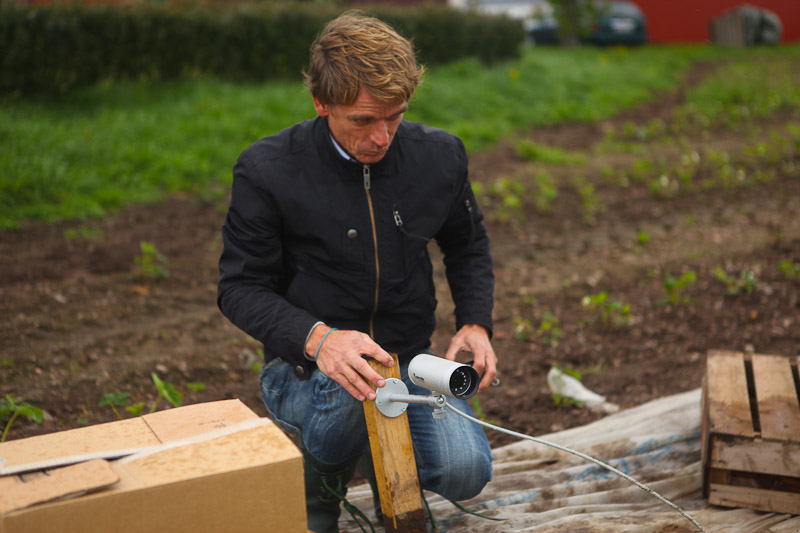 Alla har fått gå in och gissa via websidan och på hur mycket samtliga potatisar på denna planta skulle kunna väga..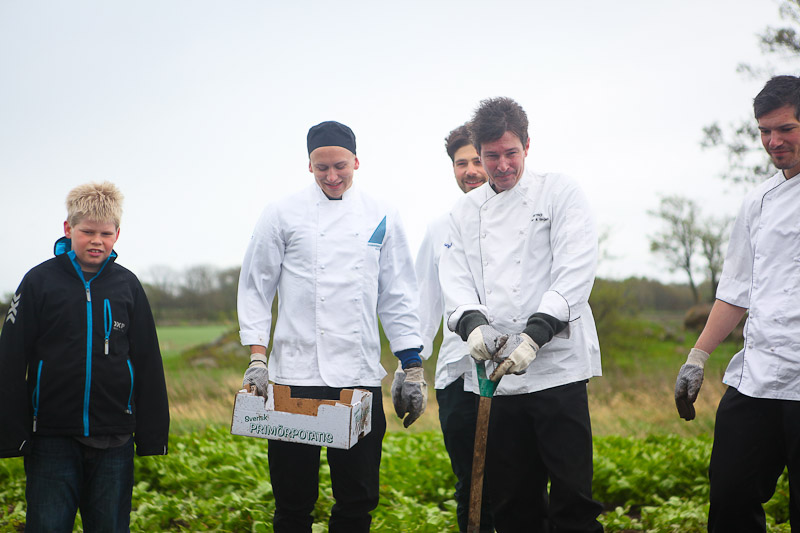 Spänningen var olidlig.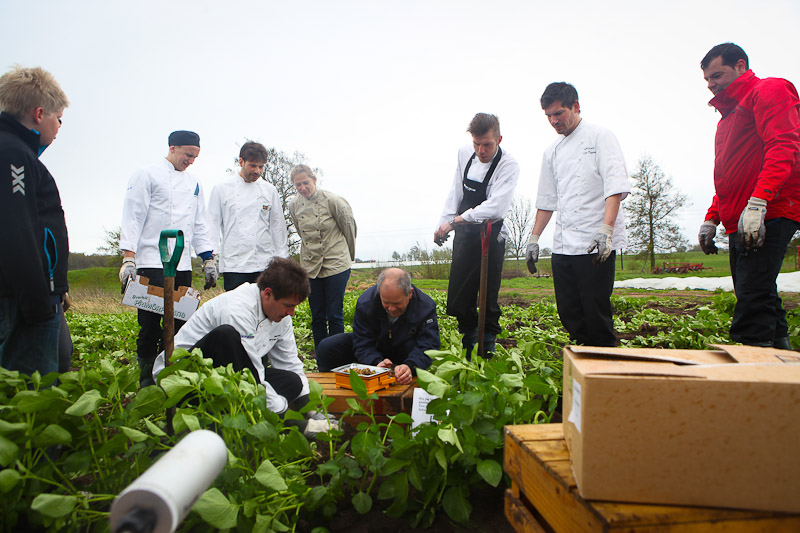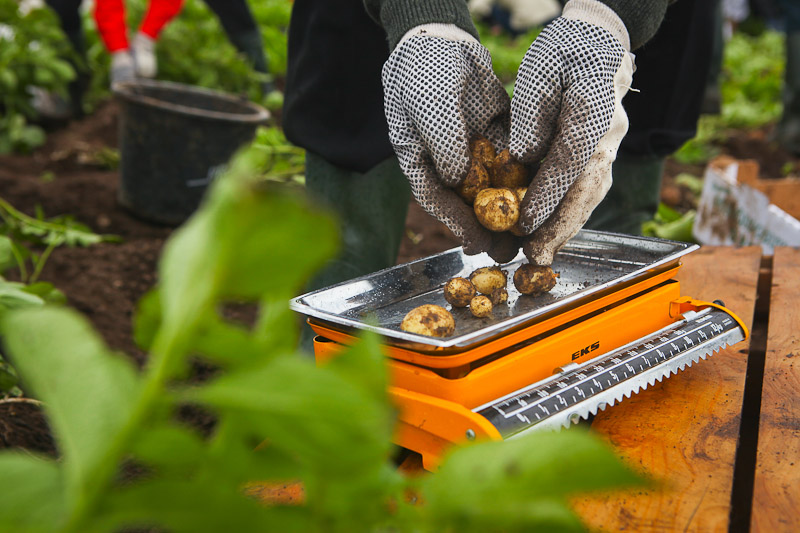 198g vilket innebar att någon faktiskt gissat rätt helt o hållet på pricken!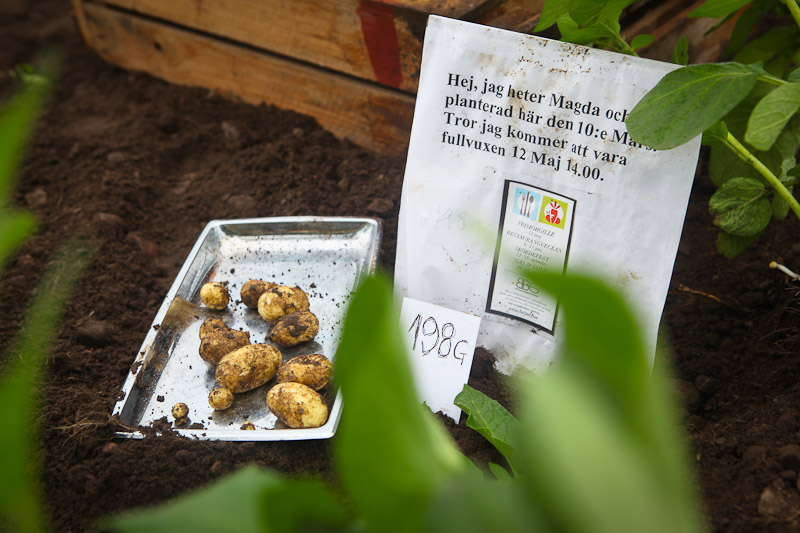 Totalt plockade vi 25-30 kilo som vi alla körde ut till våra egna restauranger.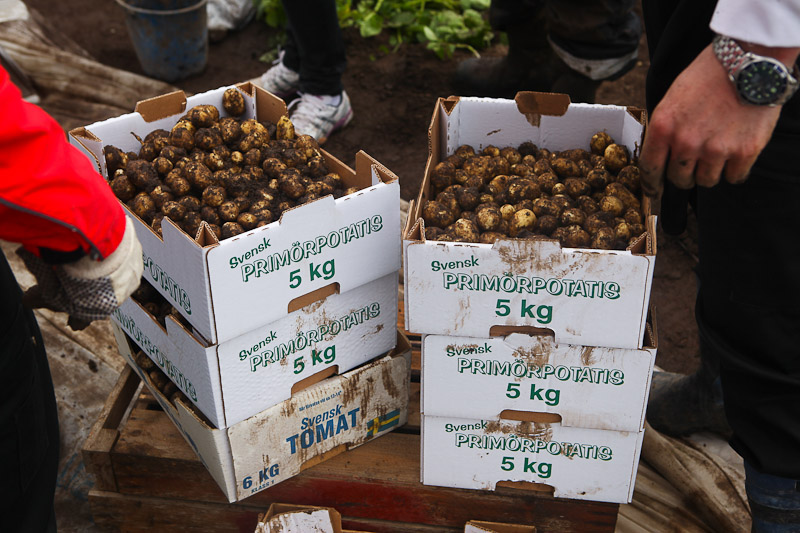 Tillsammans med Torekovssparris och tångsalt från Bjäre hembygd fick alla kockarna komma på sina egna sätt att tillaga de dagsfärska råvarorna.
Prick kl 19 samma dag fanns potatisen tillgänglig på alla restaurangerna för första gången någonsin. Världens första Bjäre magda. Serverad på olika sätt på unika primörtallrikar över hela Bjäre. Potatisen chockade både kockar och bönder, en riktig succé!